​How to cook a juicy turkey!
I wanted to share with people on how to cook a juicy Turkey! I think I cooked my first Thanksgiving turkey when I was 13, but it wasn't juicy even though I followed directions! Over the last 20 years since I have had my own family, Turkey is served at least two to three times a year, so I have come up with many versions that have been yummy but in the last couple of years, I started doing 2 things that seem to make a huge difference with flavor and juiciness. 

This recipe is more of a How to cook a juicy and flavorful Turkey! I usually stuff Turkeys but I really wanted you to see that an unstuffed Turkey can be just as juicy! I don't make perfect looking turkeys, but they are delicious, moist and flavorful!
TIP: Try this recipe with Chicken!

Oven Temperature:
325 Degrees Fahrenheit – 2 Hours




300 Degrees Fahrenheit – 1 Hour

(I cover the turkey and drop temperature for the last hour)
13 Pound Turkey (time will vary either less or more depending on turkey size)
Turkey Cooking Times
8-12 LBS = 2-3 Hours
12-14 LBS = 3-3.5 Hours
14-18 LBS = 3.5-4.25 Hours
18-20 LBS = 4.25-4.5 Hours
20-24 LBS = 4.5-5 Hours
Instructions: How to cook a turkey
1. The first thing to do is the least favorite part of all, cleaning out the carcass and rinsing the turkey inside and out! This is where you need to make sure all the giblets and neck are out of the Turkey (the giblets are the insides like liver, kidneys etc). Some people like to cook them up (YUCK) and put them in gravy (Double Yuck!) but everyone has their own tastes LOL! When the Turkey is all cleaned up then put it in a roaster pan, like this!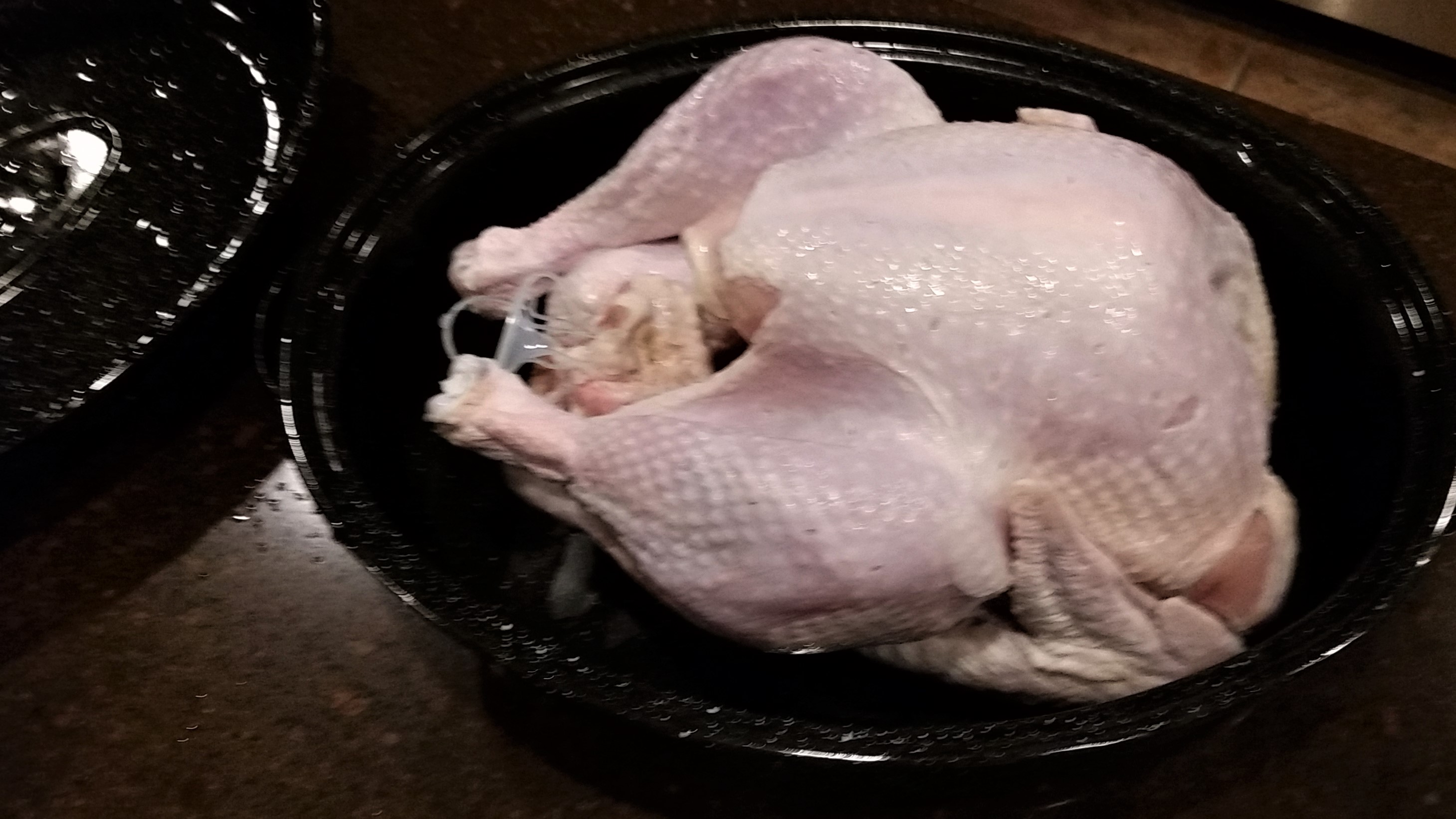 2. After the turkey is all clean, the next step is how to turn this in to a juicy butterball creation! Lets start by cutting a 1/2 cup of butter in to chunks. Than you will do this next!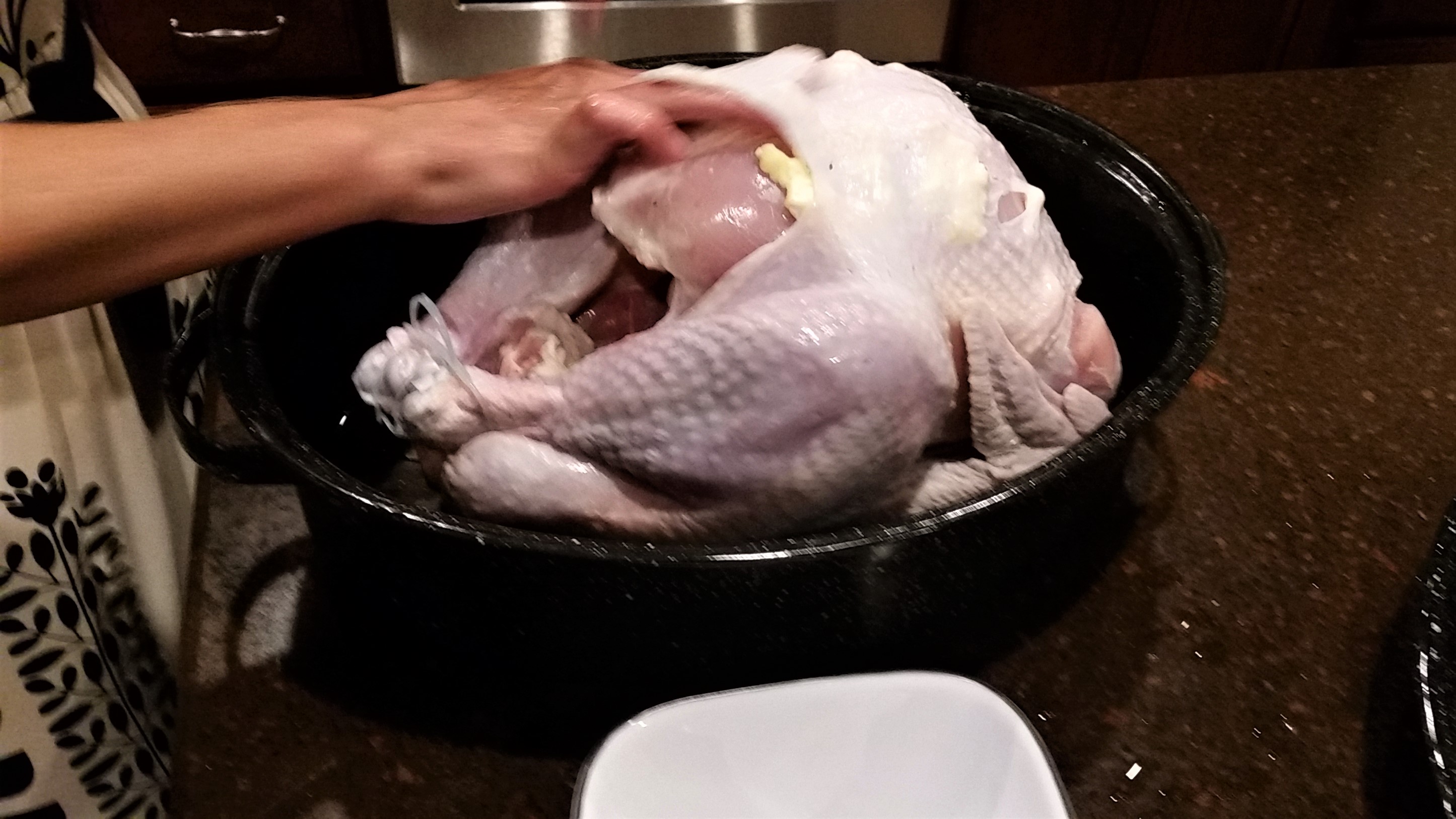 3. Make sure you shove chunks of butter all underneath the turkey skin and sides, than pat the skin down and massage a little to break up the butter and make sure its even all over! Next you will drizzle 1/4 cup of olive oil over the top of the turkey and really massage it and work the oil all over the turkey (your hands will be full of raw poultry juices, WASH hands with a disinfectant soap, as well as anything the turkey touched)! At this point you don't need any seasonings but a favorite around here is Garlic seasoning sprinkled all over the turkey, YUM!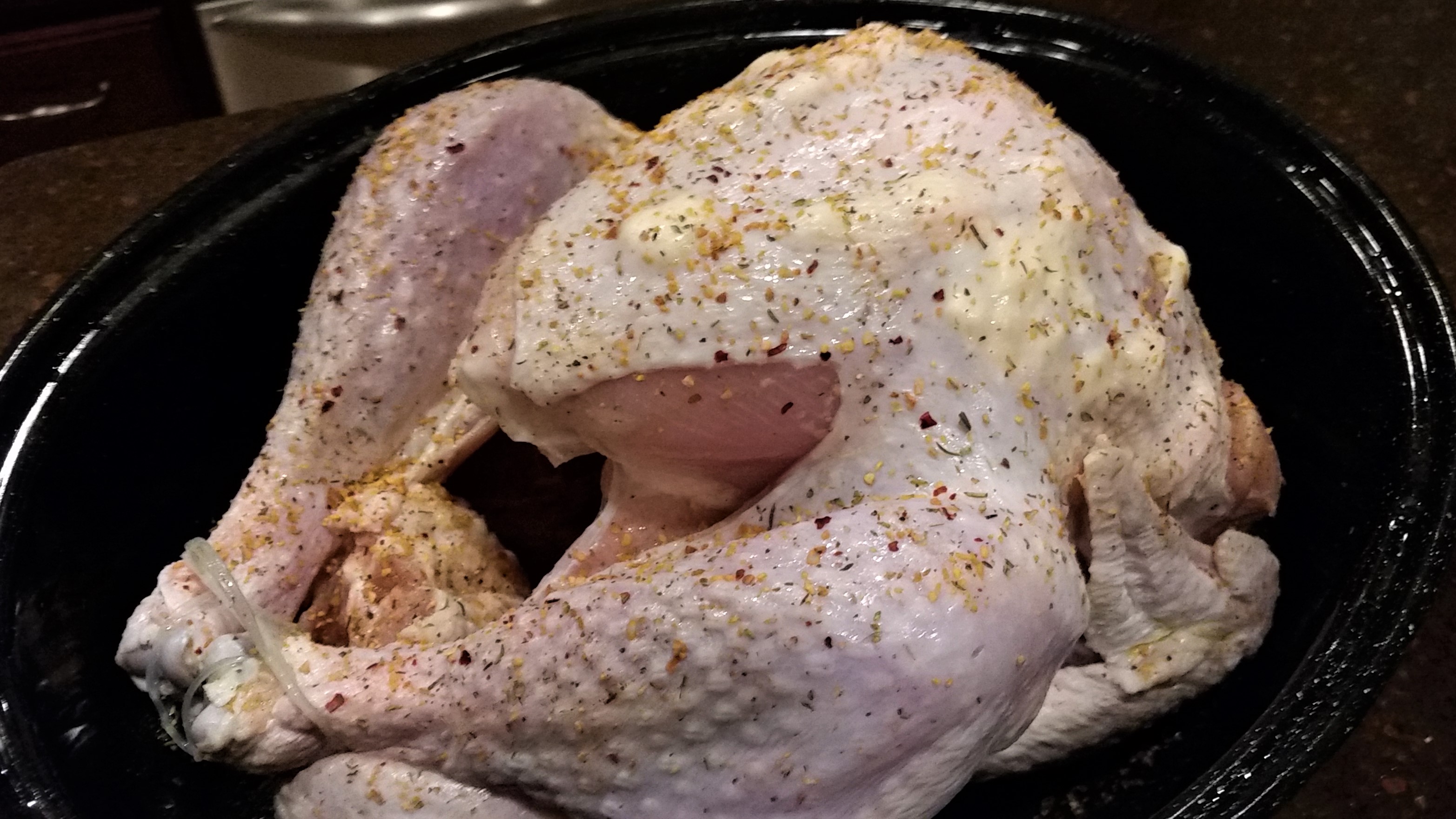 4. Heat your oven up to 325 Degrees Fahrenheit. I gave the different cooking times for what size of turkey your cooking above. This is a 13 pound turkey, and doesn't usually cook for more than 3 hours. I start out with cooking our turkey for 1 1/2 hours uncovered! Than this happens and is VERY important, BASTING the turkey for juiciness! If you don't have a baster (like me!) use a ladle, works great!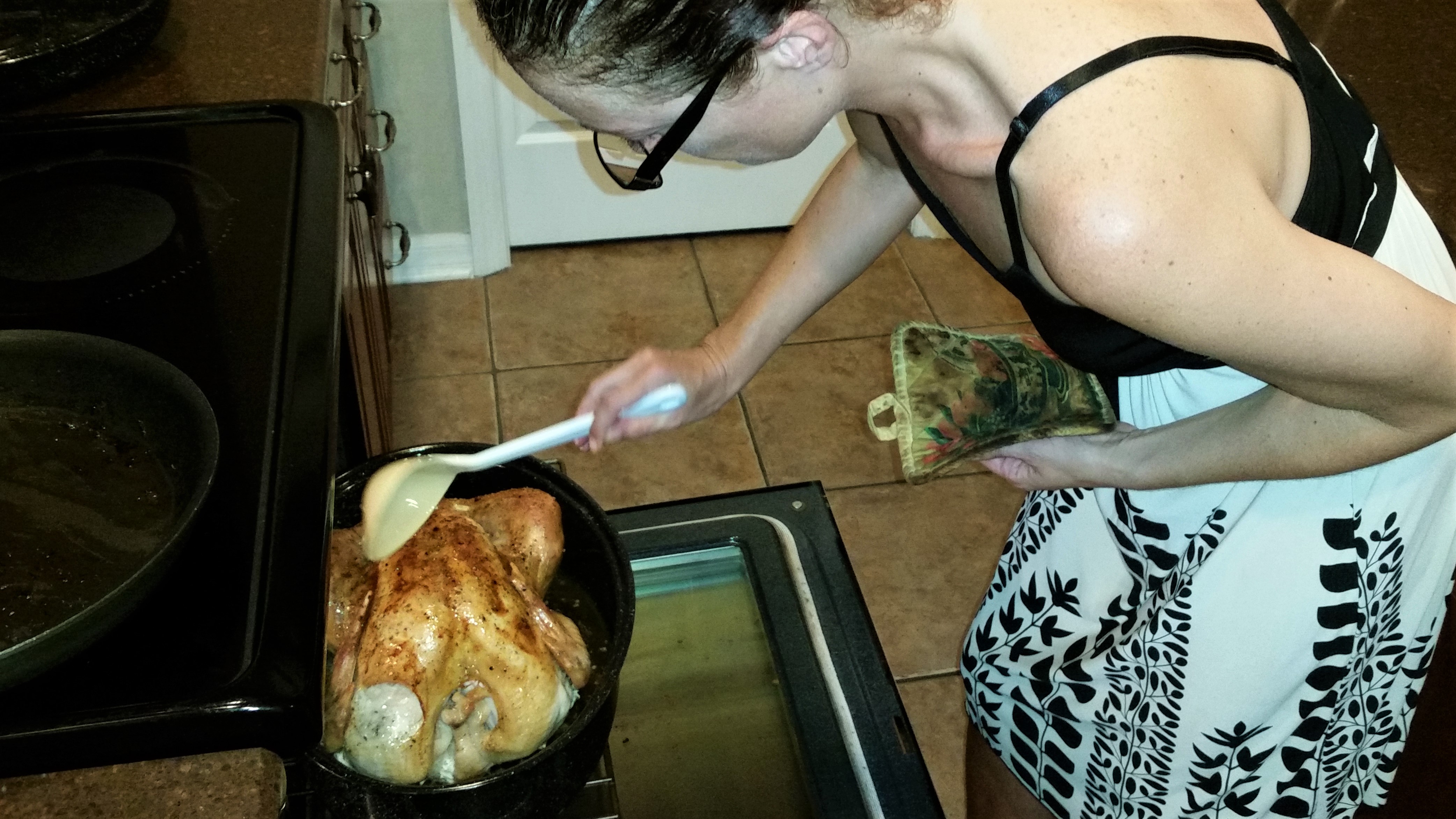 5. I make sure that I have poured over several spoonfuls of the broth from the turkey, because that is how it stays moist! At this point, I put the lid on, than cook for 30 more minutes. The last hour of cooking, I turn the oven down to 300 Degrees Fahrenheit, cover the turkey and cook for an hour.
I baste 2 times in that hour because the turkey is almost done and we don't want it to dry out! This also helps you determine whether it needs to cook more or less. (If you are unsure if your turkey is done, having a meat thermometer is extremely helpful for new cooks or anyone)!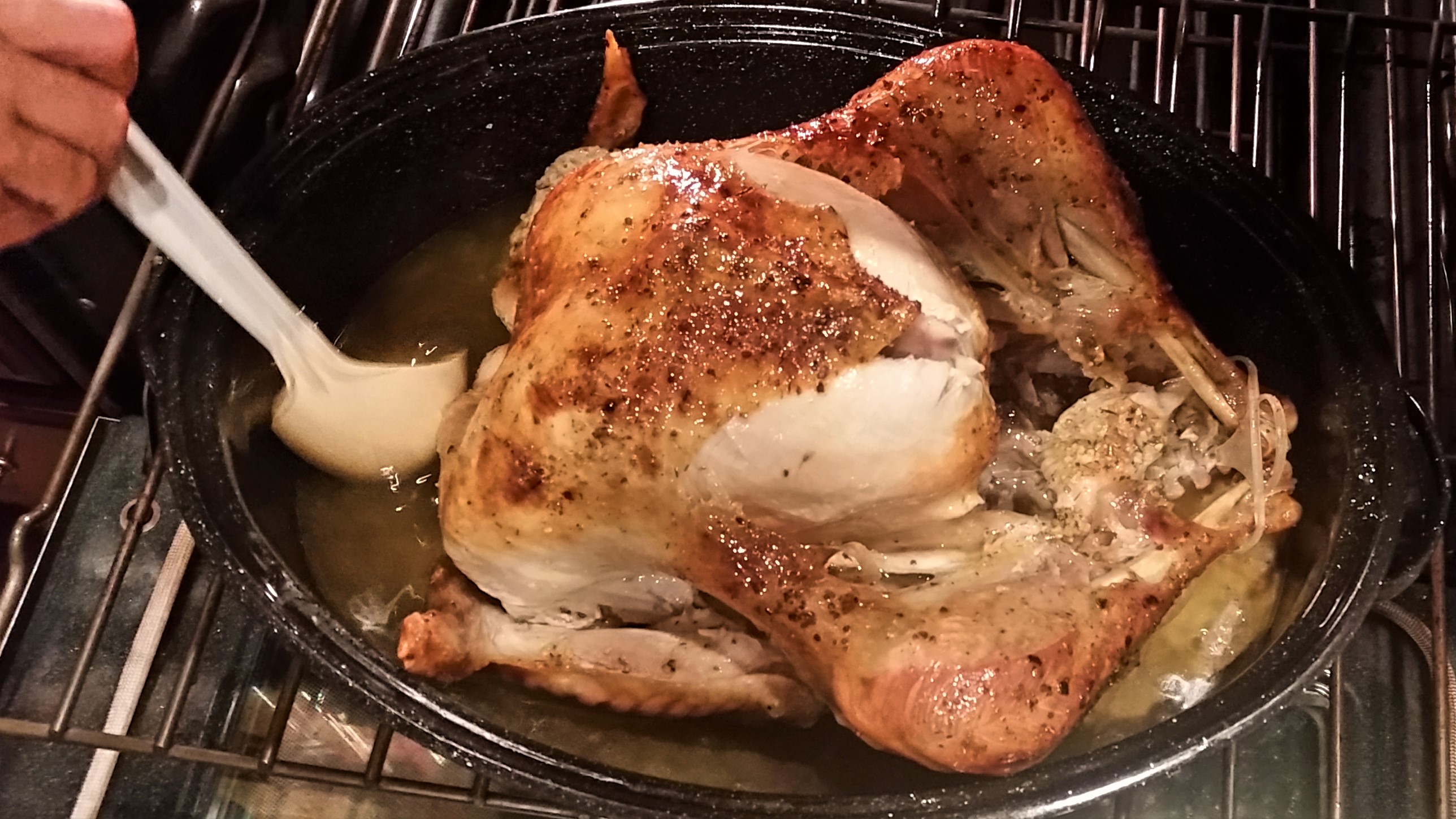 TIP:
Butter, Olive oil, basting the turkey and covering in the last hour or so has been what I discovered that works if you want a juicy turkey! Go ahead and stuff the turkey, the stuffing will be moist and flavorful!
There are always leftovers with a big turkey, so I will use the meat in place of other meats and create a meal! Here are a few of our favorites: Family Favorite Tacos and Easy Cheesy Taco Pasta
Dining in with Danielle for more recipes!
Photos and videos By my love Chris Redding
Jalapeno Pickle Cheese Ball

Slow Cooker Sausage Black Eyed Peas

Roasted Cheesy Ranch Potatoes

Broccoli Cheese Twice Baked Potatoes

Oven Fried Chicken with Balsamic and Garlic

Roasted Garlic Balsamic Broccoli

TexMex Stuffed Bell Peppers

Chunky Jalapeno Cheese Ball

Jalapeno Pickle Cheese Ball

Creamy Dijon Taco Yogurt Dip

Creamy Dijon Sauce For Everything