Pumpkin Bread that Melts in your Mouth, Delicious and Lower in Sugar!
Pumpkin Bread is an absolute favorite in our home especially in the Fall and Winter seasons! We make our own Simple Pumpkin Puree and freeze several cups so we have it on hand when we want it (you can use canned pumpkin puree but try making your own puree sometime and taste the difference of freshness and flavor!). After years of making Pumpkin bread recipes and not liking the texture or flavor, we wanted to try our hand in making our own. This Pumpkin bread recipe was an experiment and was perfected (in our opinion) with each loaf until we loved it! We are convinced even if you don't love Pumpkin, you will like this cake bread! Our goal was to get the moist cake consistency but in a bread loaf pan with a lot less sugar but also not falling apart and we did just that. Another thing we wanted to accomplish, was to use a lot less ingredients to make this bread Budget friendly!

Prep Time: 20 Minutes
Baking Time: 45 Minutes
Oven Temperature: 350 Degrees Fahrenheit 
Makes 2 Loaves

Pumpkin Cake Bread Ingredients: 
2 Cups White Flour (try not to use bleached or enriched white flour, we like King Arthur Flour )
1 Teaspoon Baking Soda
1/2 Teaspoon Baking Powder
1/2 Teaspoon Salt
1 1/4 Teaspoons Cinnamon
1/4 Teaspoon Cloves (Optional but it is delicious with this spice)
2 Cups Pumpkin Puree (if you don't have fresh puree, use a 15 oz can of Pumpkin Puree with nothing added)
1 Cup Pure Cane Sugar (we also have used coconut sugar, yum!)
1 Cup Butter Melted (we have only used real butter NOT margarine)
3 Eggs
Instructions:
1. First thing to do is to get 2 bowls, one is for dry ingredients and the other is for wet ingredients. Add the Flour, Baking Soda, Baking Powder, Salt, Cinnamon and cloves in a bowl than make sure the ingredients are mixed well, set aside!
2. In the other bowl, you will add Pumpkin Puree, Melted butter, Sugar and Eggs.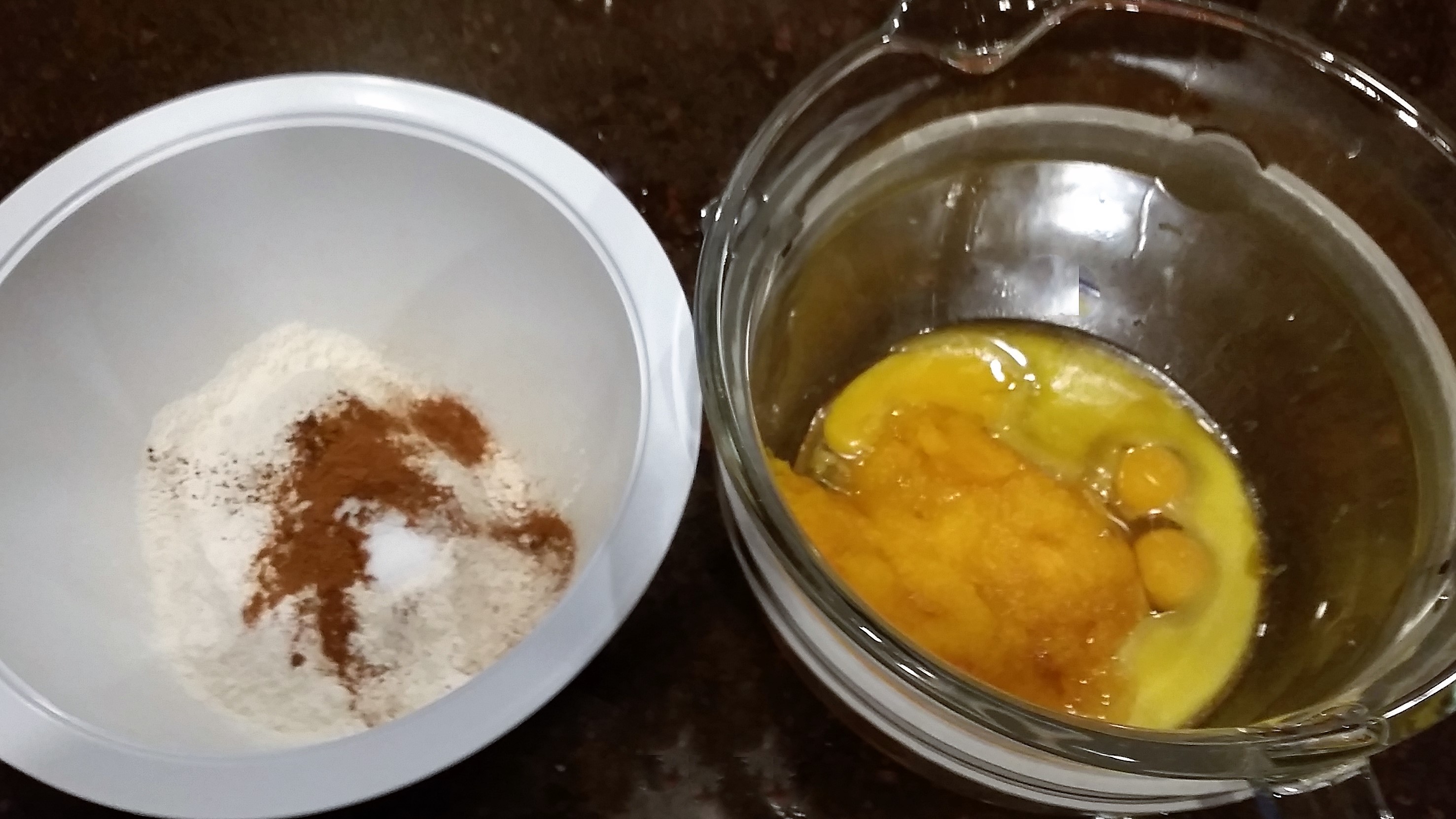 3. At this point, you can mix the wet ingredients together by hand or by a mixer (I do both ways but this time I used my beloved KitchenAid mixer that my Family gave to me for Christmas, sure makes life a little easier!) Mix until blended but be careful Not to over beat the eggs. 

4. There are some chunks and some strings because this is our fresh Pumpkin Puree but don't worry, it is delicious! We like to call them our Pumpkin bread moist makers! If you are using canned Pumpkin, than the wet ingredients will look a little different and smoother. Now add the mixed dry ingredients in the bowl and gently sir it in or mix on low speed on your mixer, just till blended. (If you do over mix, the bread will be flatter but still good but in order to get the moist cake texture, don't over mix!) It should look like this.

5. Preheat the Oven to 350 Degrees F, than butter 2 loaf bread pans (we use butter because the bread won't stick, some sprays might stick). Now divide the Pumpkin batter evenly into the 2 loaf pans, than smooth the top a bit so the batter covers the bottom of the pan like this. (Our pans are not the same size, so we accommodate that when dividing the Pumpkin bread batter.)

6. Bake for 45 Minutes than check the center with a toothpick to make sure it is not doughy. If it isn't done, leave them in the oven for about 5 minutes. Than take the loaves out and let them cool a bit before digging in, Yummy! No butter needed but that is delish as well. Our well tested delicious Pumpkin Cake Bread is moist and just the right sweetness! The only problem is you might have to make more!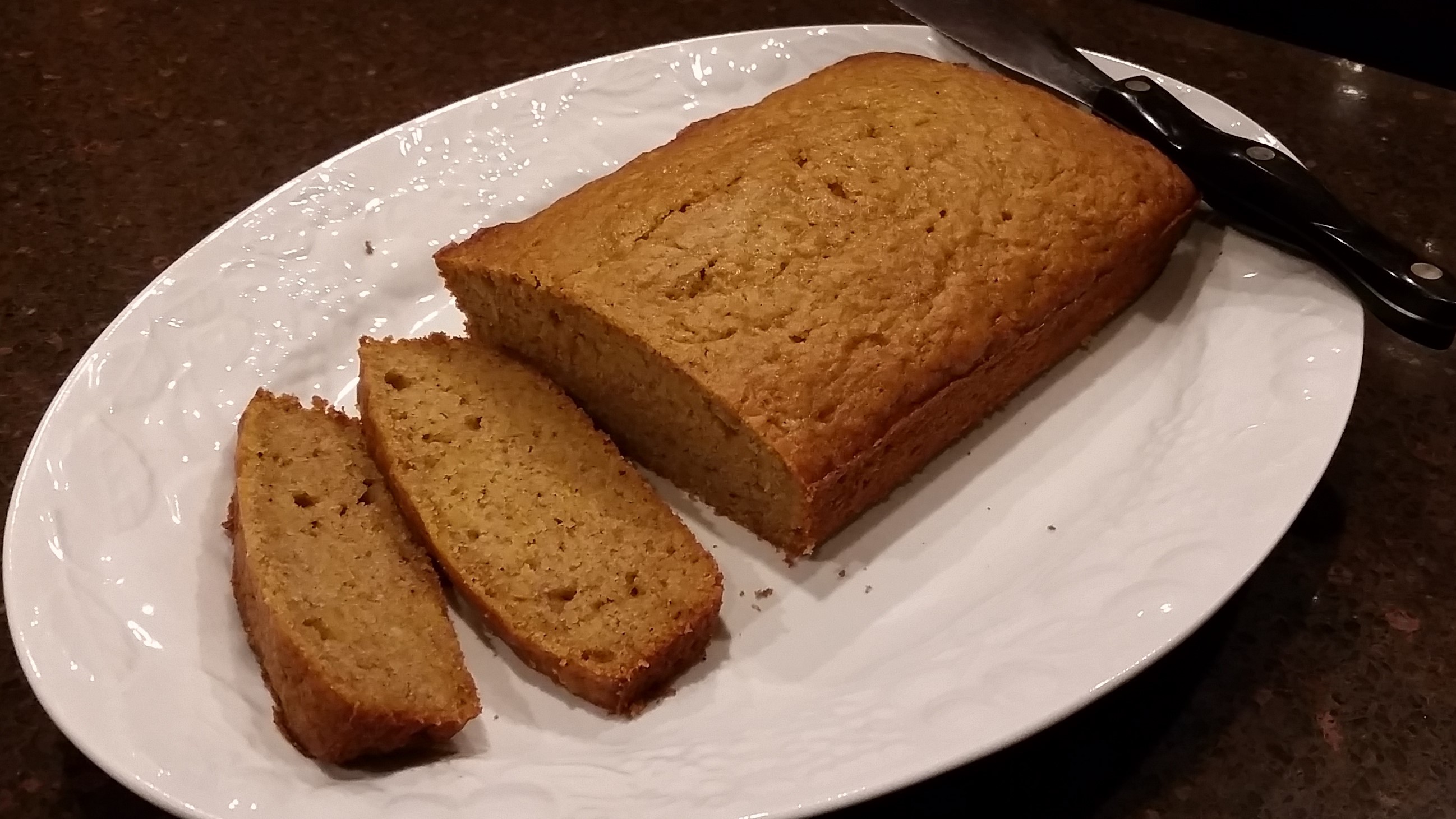 We hope you enjoy our Pumpkin Cake Bread as much as we do! If you want to learn how to make your own Puree, check out our Simple Pumpkin Puree recipe! The freshness is a flavor you will love in any Pumpkin recipes! We also have a delicious Juicy Turkey recipe just in time for the season!
Dining in with Danielle for more recipes!
Photos and videos By my love Chris Redding.
Jalapeno Pickle Cheese Ball

Slow Cooker Sausage Black Eyed Peas

Roasted Cheesy Ranch Potatoes

Slow Cooker Balsamic Garlic Pot Roast

Oven Fried Chicken with Balsamic and Garlic

Cheesy Vegetable Oven Baked Potatoes

Taco Black Bean Tortilla Casserole

Creamy Cilantro Garlic Ranch Dip

Creamy Dijon Sauce For Everything

Delicious Sour Cream Garlic Sauce