Potatoes marinated in Garlic and Lemon Roasted to Perfection
Potatoes are the perfect easy side dish for any meal! So we have a few creative recipes we love that are simple but definitely not your boring potato side dish! This recipe we started experimented with on the Barbecue grill years ago because a baked potato wasn't a favorite around here but these roasted potatoes have been a hit ever since! Sometimes we switch up flavors and seasonings but this recipe is one we like a lot because the garlic and lemon soak in to the potato during marination then thrown on the grill to gently roast them (we hate burnt potatoes)! But the great thing about this recipe is, these potatoes roast just as good in the oven!

Prep & Marinating Time: 30 Minutes
Cook Time: 45-50 Minutes
Oven Temperature: 350 Degrees Fahrenheit

Roasted Garlic Lemon Potatoes Ingredients:
4-6 Potatoes (we like red, golden, Idaho, or any potato we usually get on sale!)
3 Tablespoons Olive Oil
2 Tablespoons Lemon Juice
1-2 Tablespoons Fresh Garlic Chopped (we use already chopped Garlic in a jar, saves so much time and is budget friendly)
2 Teaspoons Paprika
1 Teaspoon Salt or to taste (we try to limit our salt intake and taste the natural flavors of food)
1/2-1 Teaspoon Ground Black Pepper
Roasted Garlic Lemon Potatoes Instructions:
1. After the potatoes are washed than you will need to cut them in 1-2 inch cubes. (Tip: For small potatoes, we usually cut them in half, medium potatoes cut in fours and large potatoes can be cut in half and then the halves can be cut in to fours.) Then put the cut up potatoes in a bowl for for marination! 
2. Measure out all the ingredients and dump it over the potatoes in a bowl with a lid and shake it up thoroughly, (sometimes we use a Ziploc bag if we have them on hand). Than let the potatoes marinate for at least 30 minutes to really soak up all the flavor!

3. In the warmer months, we will grill these on the Barbecue grill but the oven roasted potatoes are delicious when they roast in their marinade! Yum! We use a large Skillet that you can put in the oven but a baking pan should do just fine. Go ahead and poor that marinade over the potatoes, it will soak in and burst with flavor of garlic and lemon!

4. Turn oven to 350 Degrees Fahrenheit and heat it up. Than put the pan of potatoes in the oven for 45 Minutes, than check it, the potatoes may need more roasting time, they should have some goldenest to them like the photo below! All the marinade is soaked up and the potatoes have a crispiness! These are so good and very simple!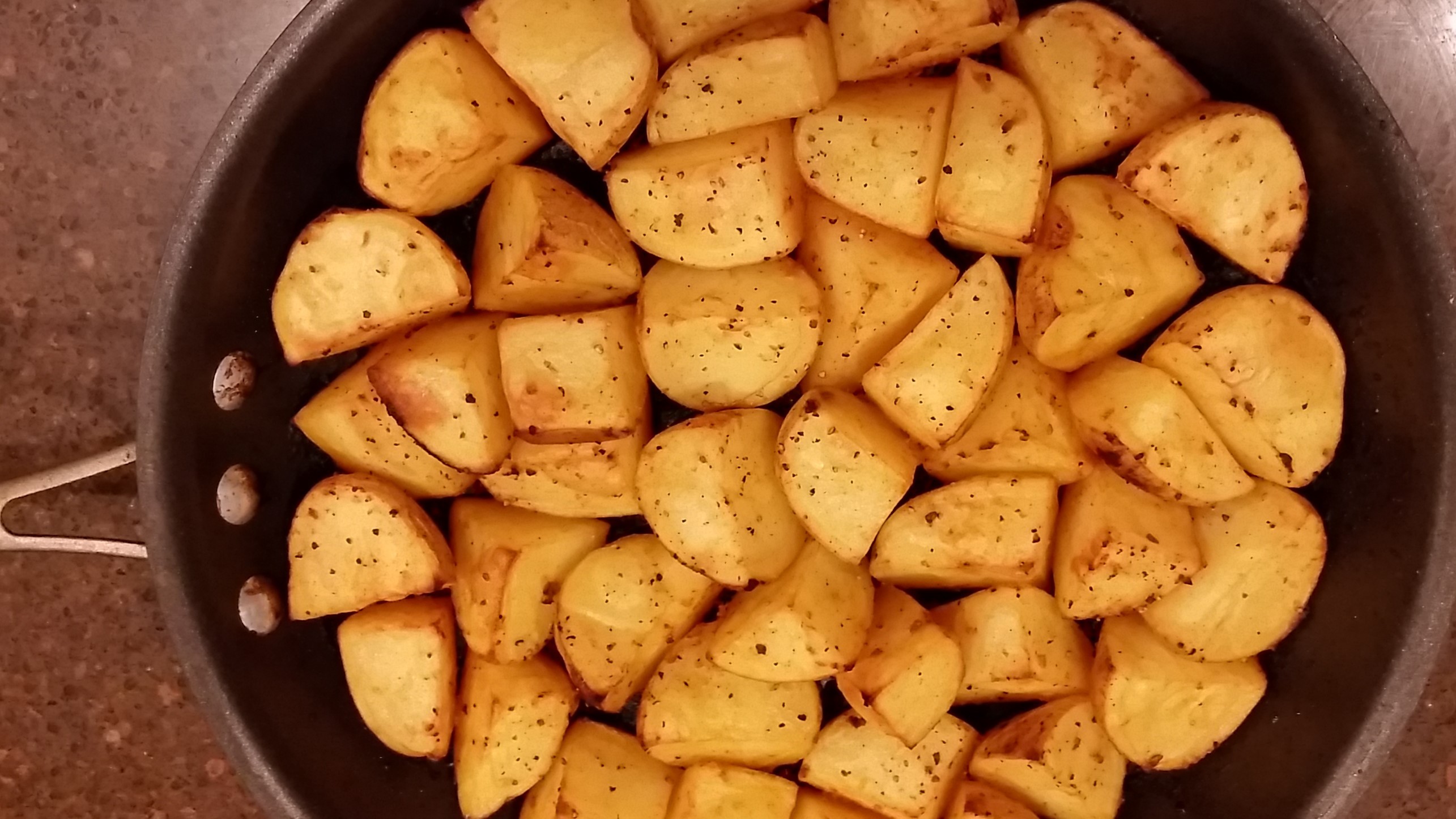 Our Grilled Chicken with Balsamic (can also be oven roasted) and Brussels Sprouts Sweetly Roasted are a delicious combination and a usual weekly fast meal around here! But with all the flavor, you would think it took hours to create, we already did all the experimenting with flavors for you and highly recommend this potato side dish for any occasion! Also check out our Sweet Garlic Barbecue Sauce with no added sugar!
Dining in with Danielle for more recipes!
Photos and videos By My Love Chris Redding
Slow Cooker Whole Chicken

Jalapeno Pickle Cheese Ball

Slow Cooker Sausage Black Eyed Peas

Roasted Cheesy Ranch Potatoes

Honey Dijon Balsamic Chicken

Roasted Tex Mex Corn On The Cob

Roasted Soy Sauce Green Beans

Cheesy Balsamic Chicken Casserole

Bacon Wrapped Chicken Breast Strips

Creamy Lemon Garlic Sauce for Fish

Jalapeno Pickle Cheese Ball