Chunky Dill Pickle Cheese Ball is a Great Appetizer Full of Baby Dill Pickle Chunks, Fresh Garlic and Seasonings! Spread this Cheese Ball on Cracker, Chips, Pita Chips and More!
We love to Make our own Sauces and Dips! This one does not Disappoint! This Cheeseball is Loaded with Dill Pickles and is so Delicious with Crackers or Anything you want to Dip with! For More Sauces and Dip Recipes, Click Here! 

Watch Us Make This, Video Below!
Prep Time: 15 Minutes
Refrigeration Chill Time: 1 Hour

Chunky Dill Pickle Cheese Ball Ingredients:
1 8 Ounce Package Cream Cheese
2 Baby Dill Pickles Chopped
2 Tablespoons Fresh Minced Garlic (about 2 Cloves)
1 Teaspoon Dried Dill Weed (about 1 Tablespoon Fresh Dill Weed)
1 Teaspoon Salt
1 Teaspoon Ground Black Pepper
Chunky Dill Pickle Cheese Ball Instructions:
1. In a Bowl, Add Room Temperature Cream Cheese, Chopped Baby Dill Pickles, Fresh Minced Garlic, Dried Dill Weed, Salt and Black Pepper.

2. Next, Mix up all the Ingredients. Now you will need some Plastic Wrap or Parchment Paper, Scoop all the Ingredients on to the Paper. Wrap the Cheese Ball and Form into a Ball. Chill in the Refrigerator for at Least 1 Hour before Serving.


3. After the Cheese Ball has Chilled, Take out and Unwrap, then Serve with Crackers, Chips, Pita Chips and Much More!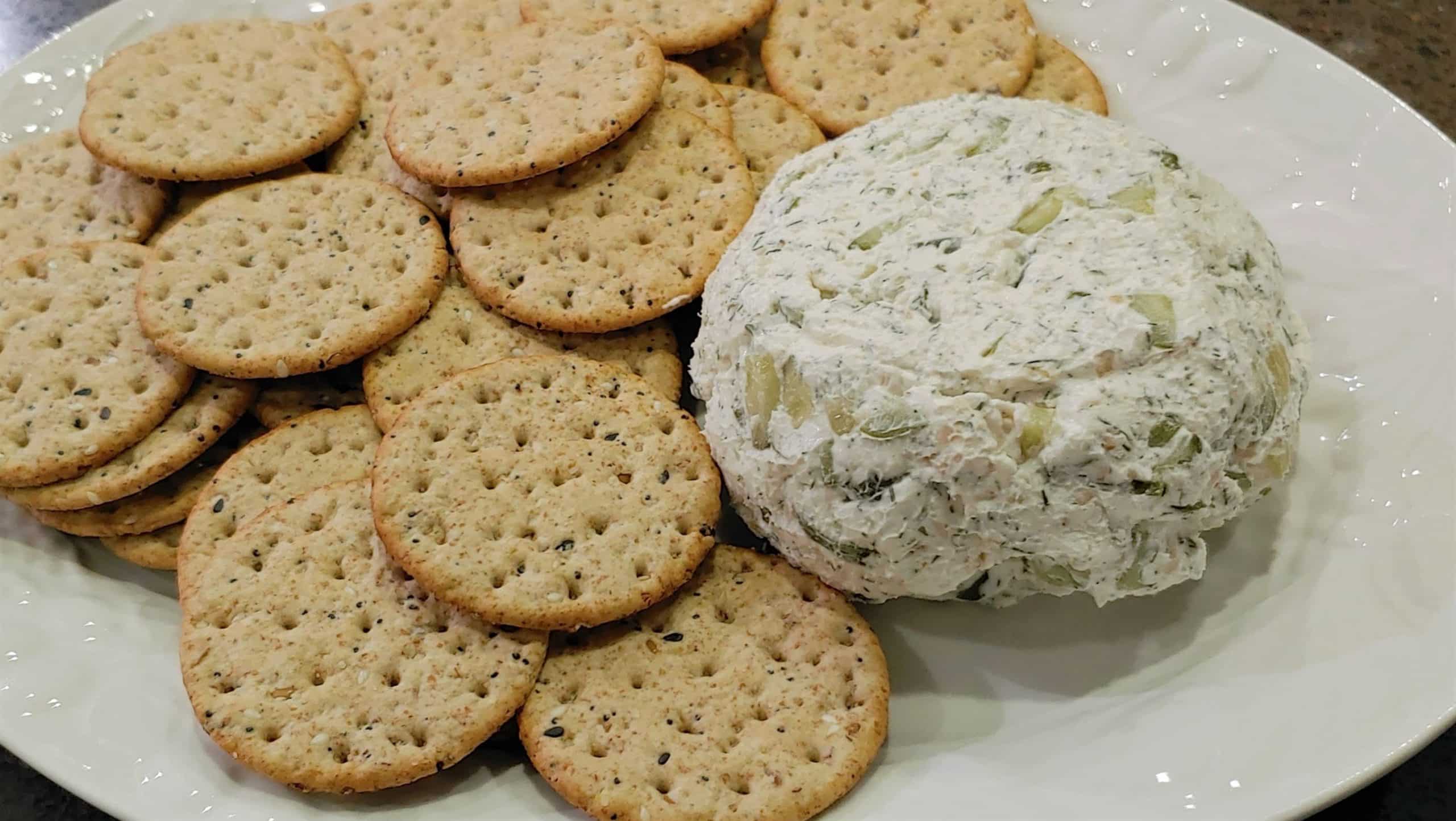 Roasted Cheesy Ranch Potatoes

Pickle Cheddar Cheese Ball

Roasted Bacon Garlic Broccoli

Creamy Mashed Sour Cream Red Potatoes

Slow Cooker Meatless Black Beans

Roasted Balsamic Sweet Potatoes

Pimento Olive Cheese Ball

Creamy Dijon Taco Yogurt Dip