Creamy Homemade Ranch Dip Seasoned with Fresh Garlic, Cilantro and Dill Weed! This Easy Dip is Perfect for Vegetables, Crackers and Chips!
Our Easy Creamy Cilantro Garlic Ranch Dip is Homemade with No Packaged Seasonings! The Flavors of Garlic, Dill and Cilantro marinate together, creating a very Fresh Dip that tastes like Ranch Dressing. We like to serve our Dip with any Vegetable, Crackers and Chips as a Party Appetizer. We like to make our own Sauces and Dips because they are Cheaper and Healthier! 

Need More Ideas for Sauces and Dips, Just click Here! 
Prep Time: 15 Minutes
Refrigeration Marinating Time: 2 Hours
Creamy Cilantro Garlic Ranch Dip Ingredients:
2 Cups Sour Cream
2 Tablespoons Fresh Minced Garlic (About 2 Cloves of Garlic)
1 Tablespoon Lemon Juice
2 Teaspoons Dry Dill Weed
1 Teaspoon Dry Cilantro
1 Teaspoon Salt
1/2 Teaspoon Ground Black Pepper 
Creamy Cilantro Garlic Ranch Dip Instructions:
1. In a Bowl, add Sour Cream, Fresh Minced Garlic, Lemon Juice, Dill Weed, Cilantro, Salt and Black Pepper.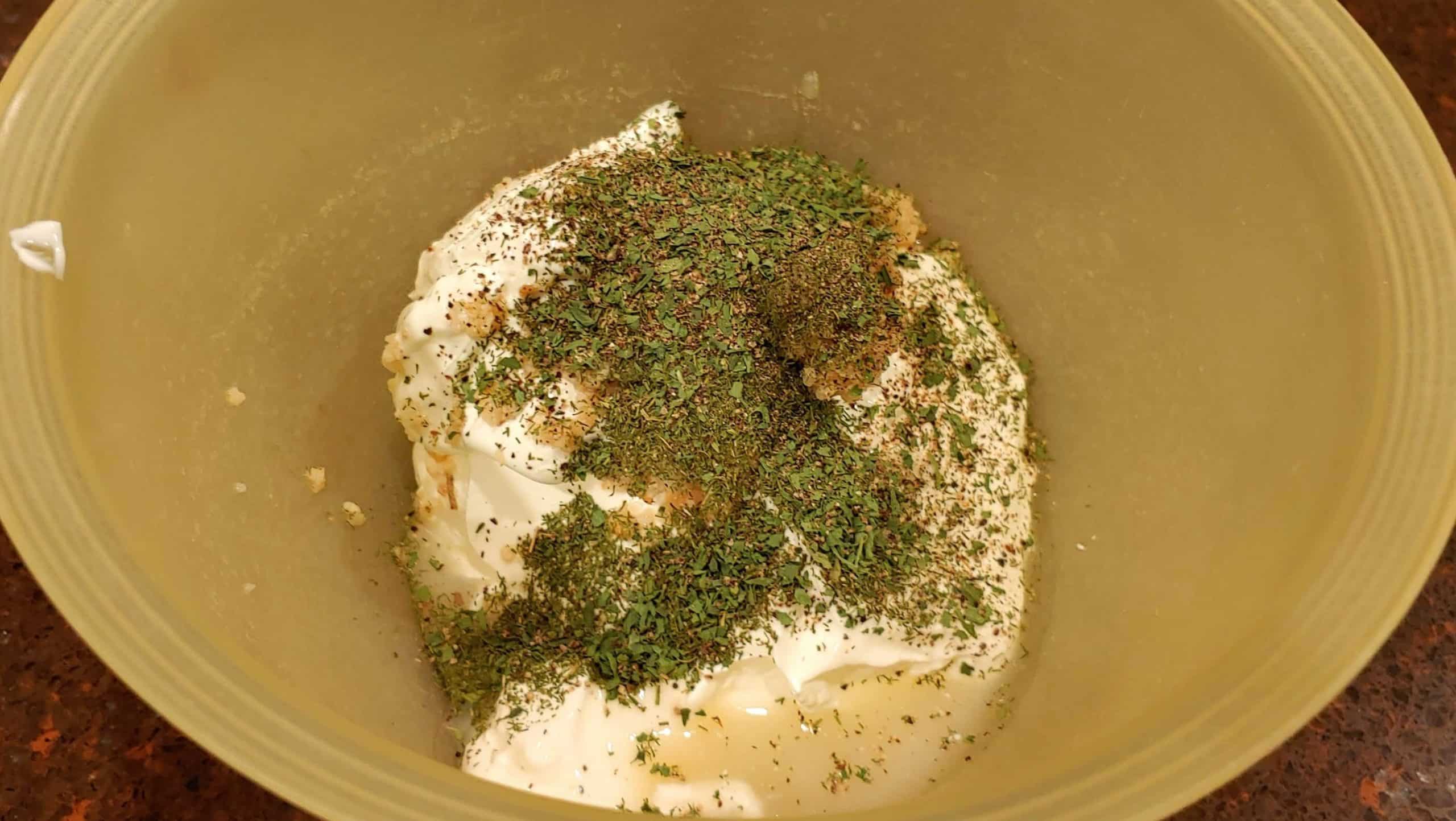 2. Mix the Ingredients up really well. Cover the Bowl and then Refrigerate for 2 Hours. The marinating of the Ranch Dip Ingredients helps all the Seasonings to ferment and get that Ranch Dip taste! That's it! Enjoy this Delicious Appetizer Ranch Dip with Vegetables, Crackers and Chips!

Jalapeno Pickle Cheese Ball

Slow Cooker Sausage Black Eyed Peas

Roasted Cheesy Ranch Potatoes

Cheesy Mushroom Twice Baked Potatoes

Twice Baked Kale Potatoes

Roasted Sweet Cauliflower

Taco Brown Rice and Roasted Peppers

Roasted Curry Dill Red Potatoes

Pickle Cheddar Cheese Ball

Chunky Dill Pickle Cheese Ball

Creamy Dijon Taco Yogurt Dip

Slow Cooker Garbanzo Bean Dip