Creamy Dip Full of Taco Seasonings, Jalapenos, Onions and Garlic! Our Delicious Dip is perfect for Chips, Crackers, Pita Chips and Vegetables!
We love to make our own Dips and Sauces! A few Years ago we started Creating our Own Sauces and Dips because they are Healthier (we mean Healthier than Store Bought Dips and Sauces) and Much More Flavor! Experimenting with different Ingredients and Flavors, we have come up with some Delicious Favorites in our House. The More you Marinate the Dip, the Stronger the Flavors, but we think at Least 2 Hours of Refrigeration Time gives some Delicious Flavors. 

Watch Us Make This, Scroll to the Bottom for the Video!
Prep Time: 15 Minutes
Refrigeration Marinating Time: 2 Hours

Creamy Taco Jalapeno Dip Ingredients:
1 Cup Sour Cream
1 Cup Yogurt
1 Small Onion
1 Jalapeno
3 Tablespoons Fresh Minced Garlic (About 3 Cloves)
1 Teaspoon Ground Cumin
1/2 Teaspoon Chili Powder
1/2 Ground Black Pepper
1 1/2 Teaspoon Salt
Creamy Taco Jalapeno Dip Instructions:
1. First you will need a Bowl, then add Sour Cream, Yogurt, Diced Small Onion, Diced Jalapeno (we take the seeds out), Fresh Minced Garlic, Ground Cumin, Chili Powder, Black Pepper and Salt.
TIP: Dicing the Onion and Jalapeno means to cut them up into Small Chunks! We Show You how to do this in the Video Below!

2. Next mix up all the Creamy Taco Jalapeno Dip Ingredients together. Then Cover the Bowl and Refrigerate for 2 Hours! Serve this Delicious Dip with Chips, Crackers, Pita Chips and Vegetables!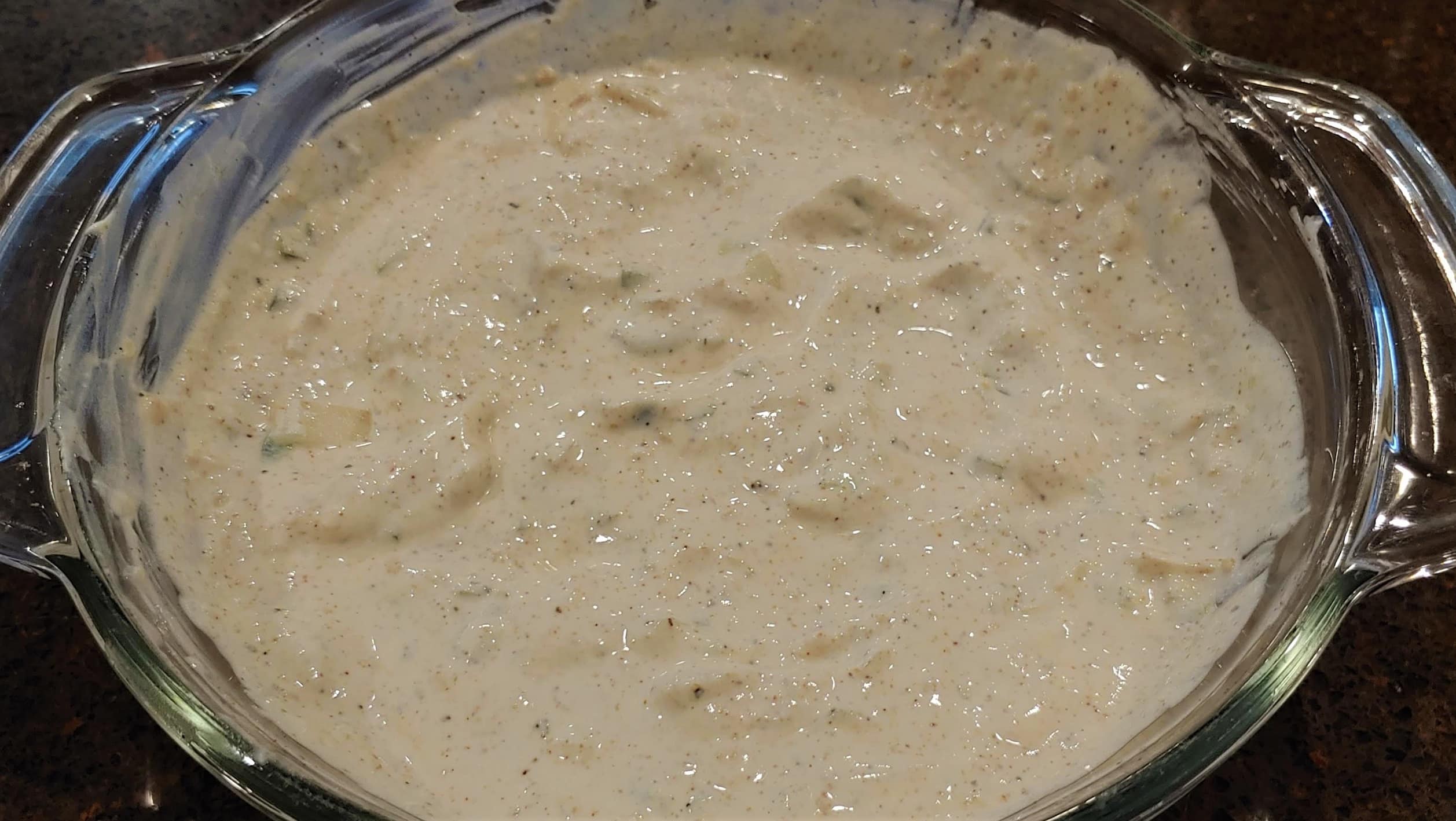 Jalapeno Pickle Cheese Ball

Slow Cooker Sausage Black Eyed Peas

Roasted Cheesy Ranch Potatoes

Slow Cooker Balsamic Garlic Pot Roast

Oven Fried Chicken with Balsamic and Garlic

Cheesy Vegetable Oven Baked Potatoes

Taco Black Bean Tortilla Casserole

Creamy Cilantro Garlic Ranch Dip

Creamy Dijon Sauce For Everything

Delicious Sour Cream Garlic Sauce