Our Tacos with Ground Turkey Meat are Slightly Healthier because they do not have all the Fat! Ground Turkey is also Higher in Protein!
Coming up with our own Taco night recipe was based on wanting to eat fresher but yet still on a budget! Usually most of us who want to serve Tacos on Tuesday or any other day results in us taking a trip to the store and getting all the ingredients (NOT budget friendly). For my family, I could easily spend $30 for the one meal with all the taco ingredients at the store, DON'T get me started about going to a restaurant LOL! If you do that a few times a month, well that can get expensive! Since I cook a lot, I have one of those cupboards with lots of seasonings and whenever spices go on sale, I stock up again. I wanted to make healthier tacos but it had to be GOOD!
So the adventure starts a year ago, I experimented on my poor family (they loved it) for a couple of months until I felt the taste was a hit! Then I went further and developed my own taco secret sauce, NOT salsa (I make my own salsa at times too LOL). I don't know about you but the sour cream sauce I make just tops it off, definitely NOT your drive-thru tacos! No need to spend all day in the kitchen but your family will think you did.

If you want to try our yummy Sour Cream Garlic Sauce, we have provided the link!
My secret to having homemade taco night is, when I go grocery shopping, I pick up ground meat (we like ground Turkey), of course I have the seasonings (not expensive and many meals will be created) we always stock up on veggies, so those are around when it's Taco night and I get a pack of soft white corn tortillas (there's a trick I learned for cheap, fast flat bottom shells NOT in a box)!
I triple my recipe but not everyone has the appetite of my boy household! Our 16 year old is known for scarfing down 15, YES it's true, they are that GOOD!

Prep Time: 30 Minutes
Cook Time On Stovetop: 1 Hour

Favorite Ground Turkey Tacos Ingredients:
1 Pound Ground Beef, Chicken, Turkey 
1 Tablespoon Extra Virgin Olive Oil 
4 Tablespoons Fresh Minced Garlic
2 Teaspoons Ground Cumin 
1 Teaspoon Chili Powder 
1/8 Cup Fresh Cilantro or 2 Teaspoons Dried Cilantro 
1/4 Teaspoon Ground Black Pepper
1 Teaspoon Salt or to taste 
1 Teaspoon Lemon Juice
3/4 Cups Water
Favorite Ground Turkey Tacos Instructions:
1. First thing is browning the meat. I use a frying pan on the stove-top set to medium temperature with Olive oil. You will need to break up the meat as it's cooking (our goal is to get the ground meat into small pieces). This needs to brown until you see dark crusts forming on the meat (be careful NOT to burn, it will ruin the flavor) Take the pan off the burner for the next step!
2. The browning is done, now the seasonings! Add fresh Garlic or Garlic powder. Sprinkle the Cumin, Chili powder, Cilantro, Pepper and Salt over browned meat. Put it back on the burner and stir around for a minute (this gets the seasonings coated around the meat, and cooks the garlic a little).

3. Turn your stove-top down about half because this step is important for the flavor (in our opinion). Now add the Lemon juice and water. Stir around to coat the meat (it will be watery). Simmer for about 20-30 minutes (making sure you stir occasionally). This step is very important to the flavor! The browning and seasonings simmer in the water and create a delicious, juicy taco meat with amazing taco flavor! Here is what it looks like, done!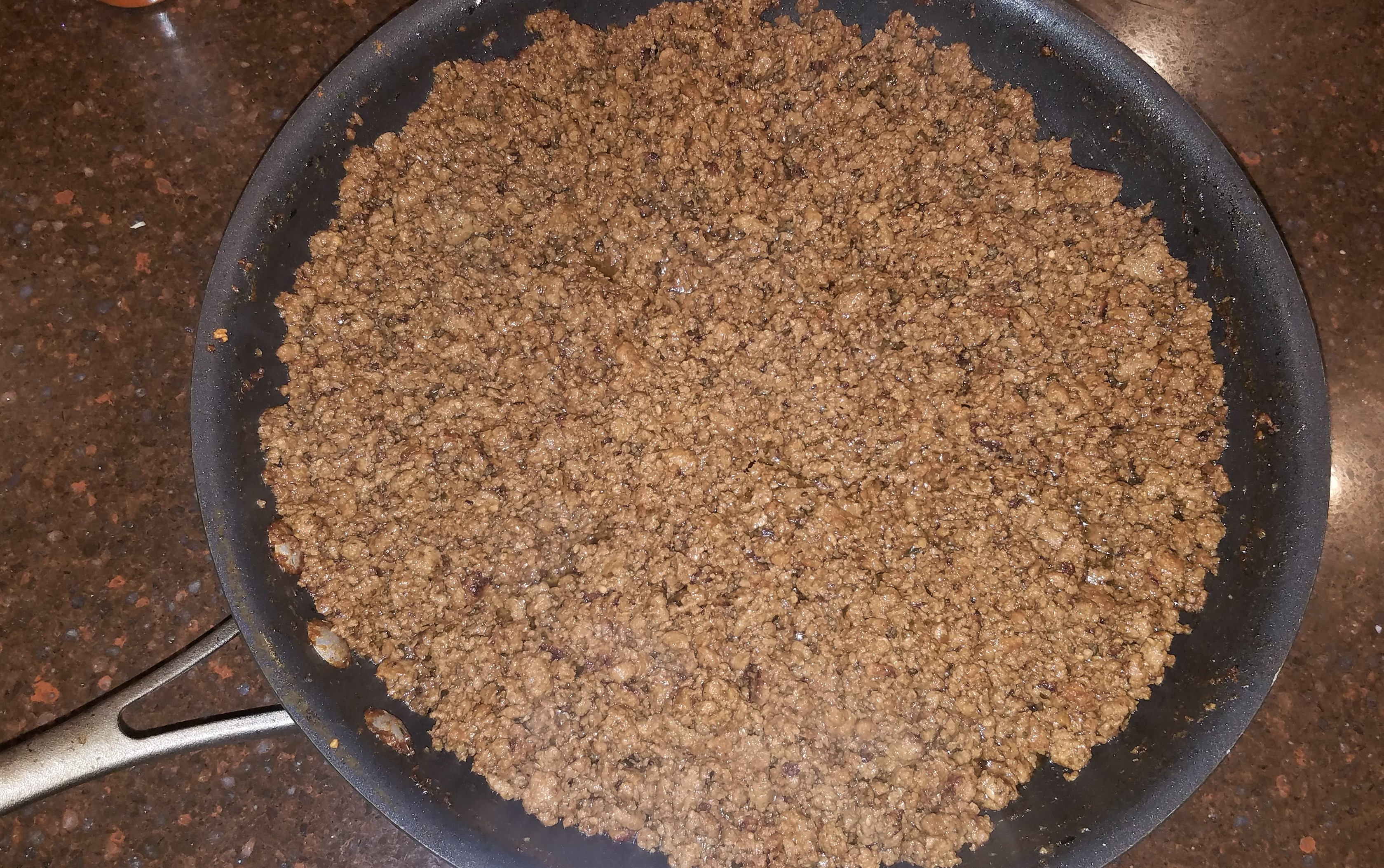 The Taco meat is done! Next is pretty much up to you, everyone has their favorite way to dress a taco. These are our favorites!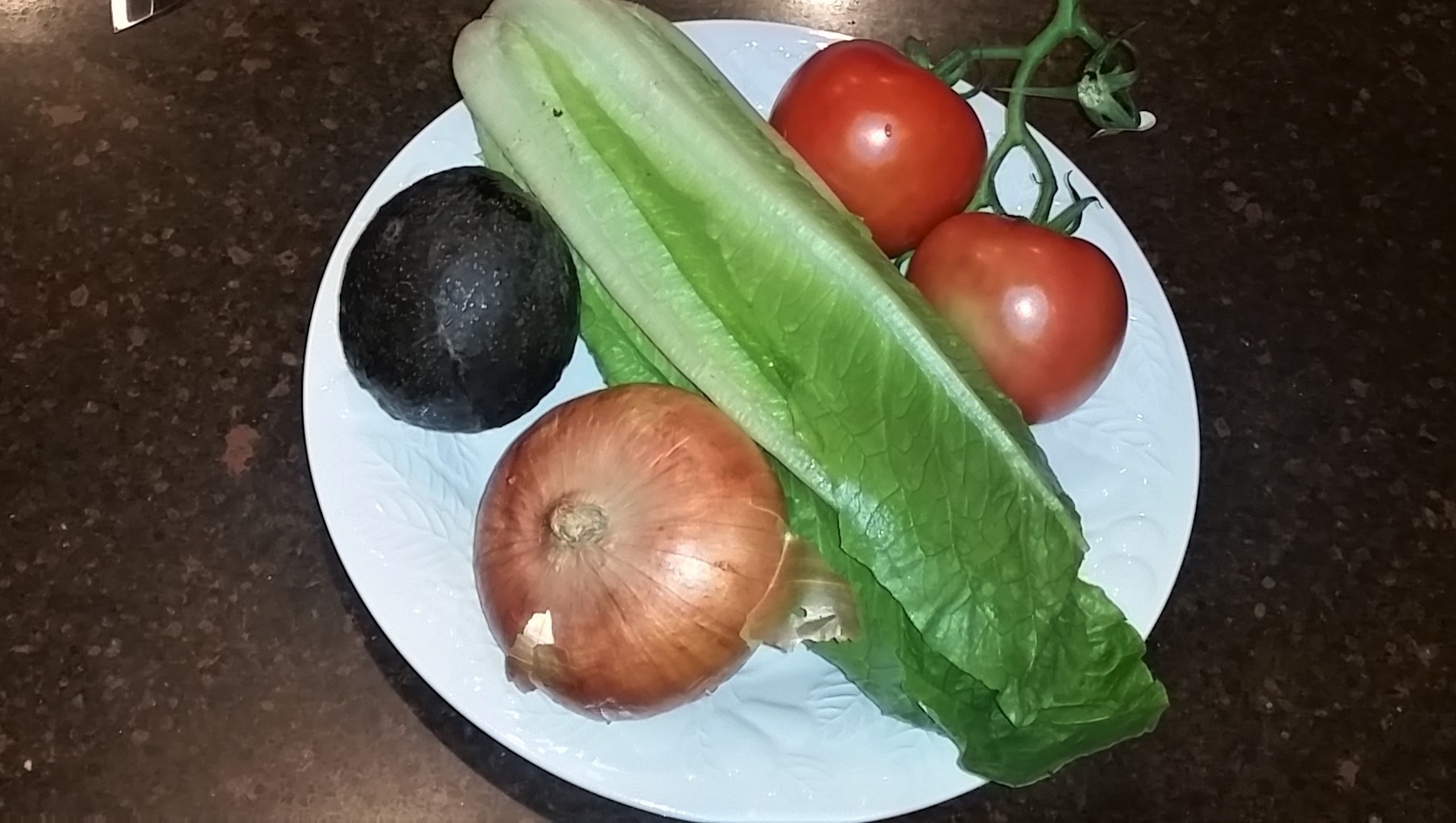 If you want to get even more adventurous in the kitchen, check out how we create our own Flat Bottom Taco shell NOT in a box!
Making Flat Bottom Tacos
1 Pack Soft White Corn Tortillas
Olive Oil
Instructions:
Brush olive oil on both sides of tortillas (make as many as you need) and keep stacking them on a plate like this! We let ours sit for at least 10 minutes to soak up the oil!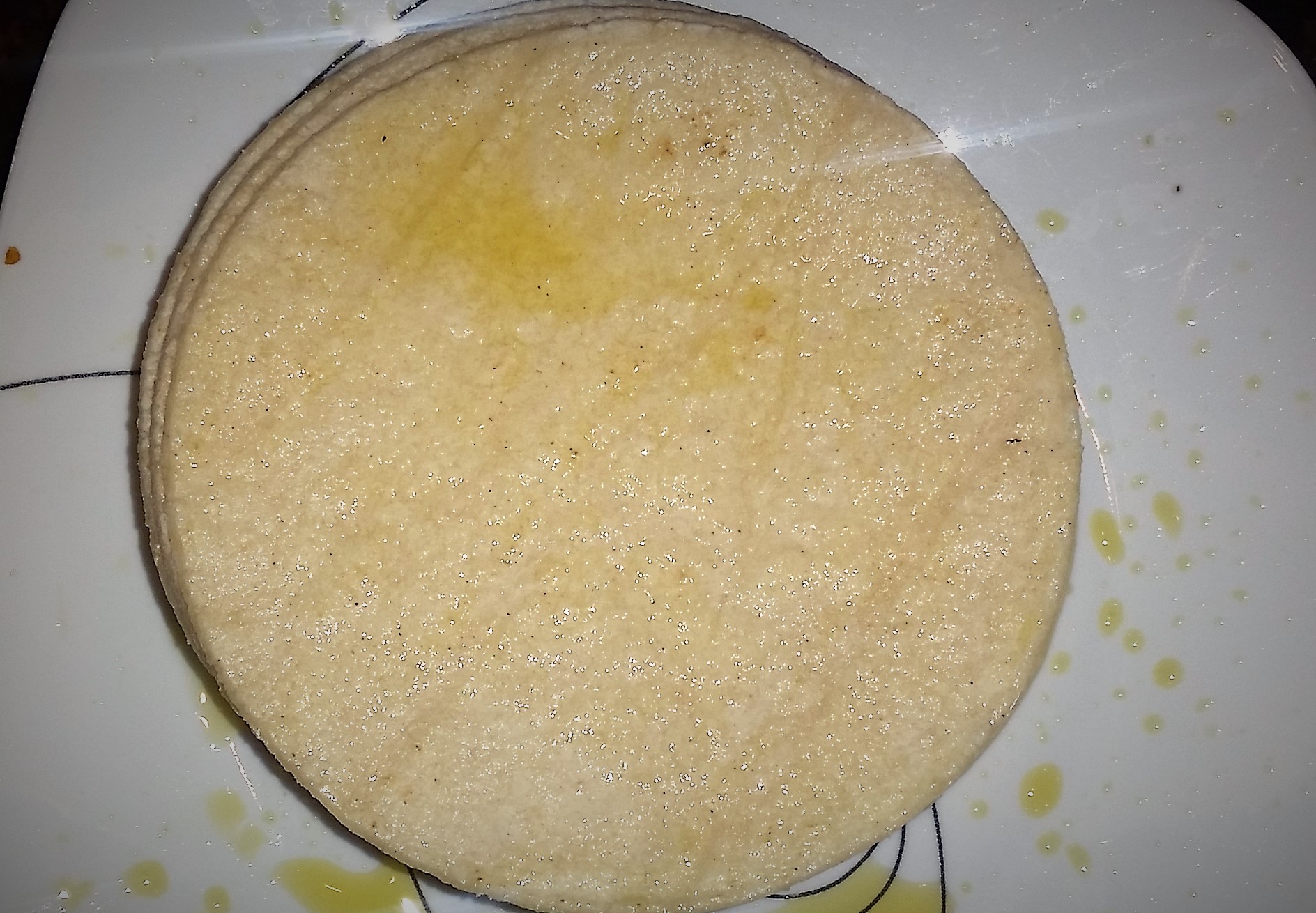 Turn your oven on to 350 Degrees Fahrenheit and let it heat up.
Next do this! (My hubby has this down to a tee, he is my supporter and helper in the kitchen so I can do other tasks lol). All you need to do is drape the oiled tortillas over 2 bars on the rack (don't forget to put a pan or foil below just in case oil drips).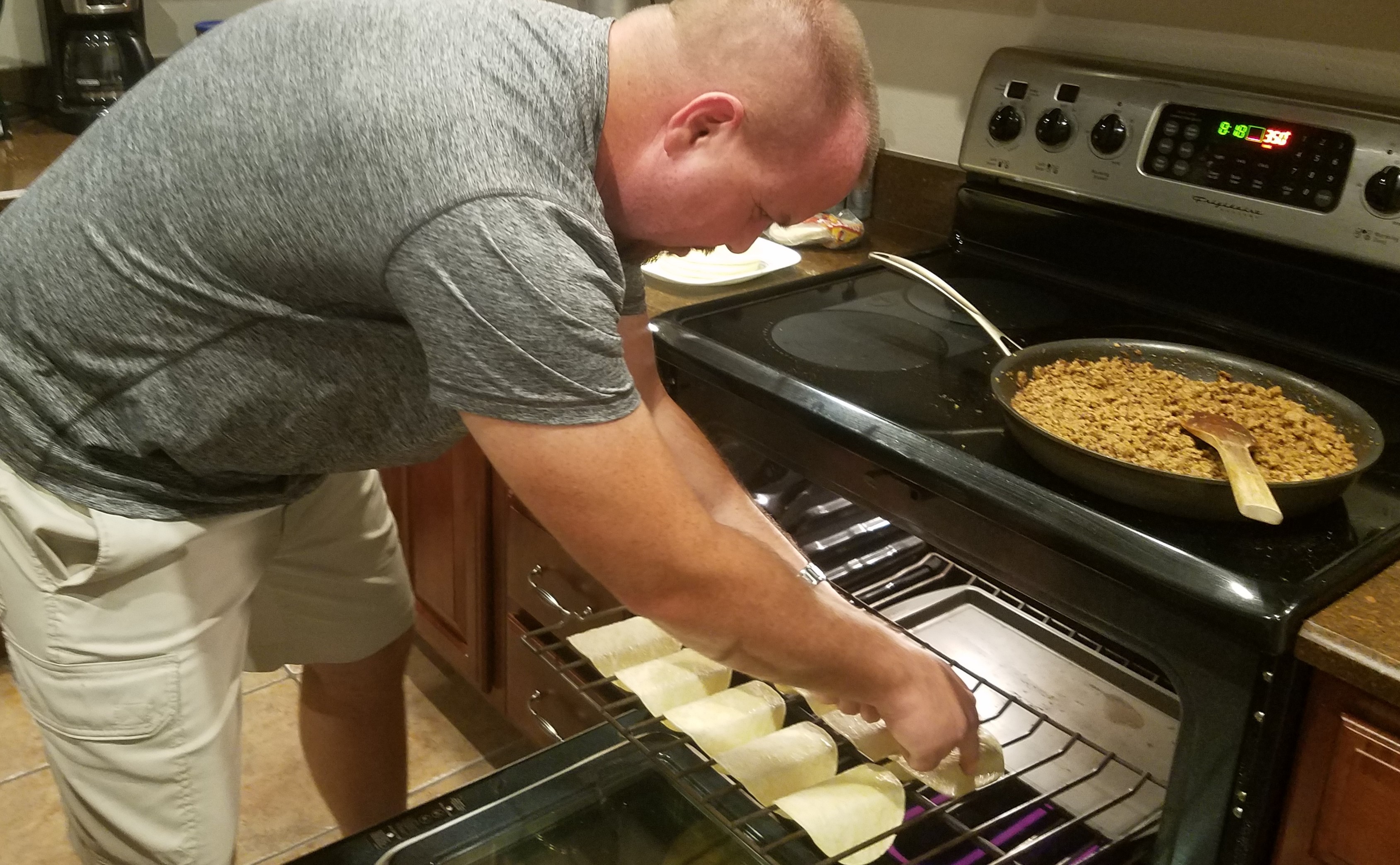 Bake for 15-18 Minutes, keep an eye on them because some stoves cook differently. You want them to look like this!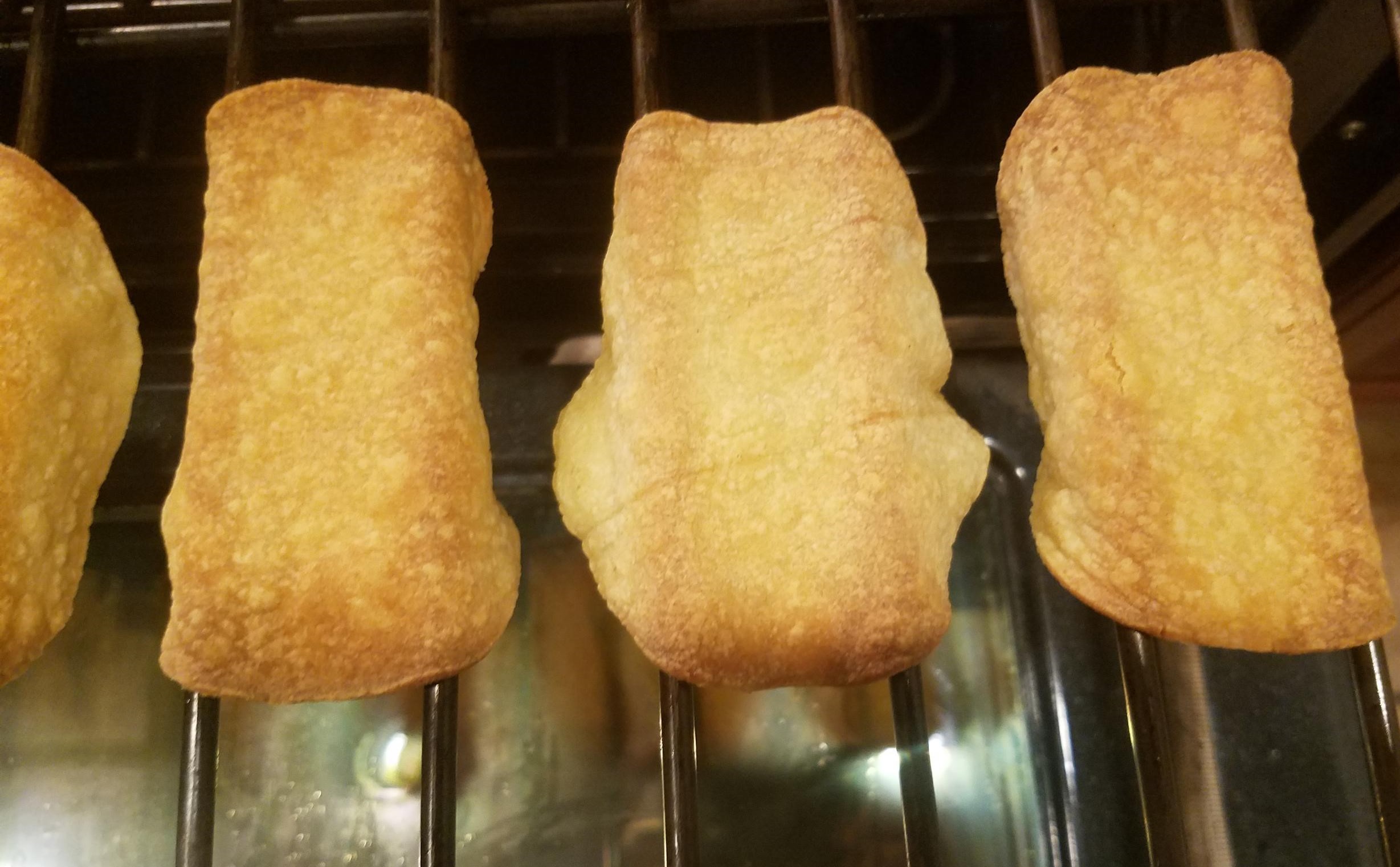 When they are ready, take them out immediately and put them on paper towels (I use parchment paper). If you leave them on the rack, they will harden and break apart (yes we have made that mistake, LOL). These are ready to be stuffed, dig in and enjoy! If you want to watch us making these Family Favorite Tacos, see link below! In the video, we tripled the recipe and added some heat! I love the versatility of this recipe I created to SAVE MONEY!
If you have leftover Taco Meat then you should try our Cheesy Taco Pasta!
Dining in with Danielle for more recipes!
Photos and videos By my love Chris Redding
Roasted Cheesy Ranch Potatoes

Pickle Cheddar Cheese Ball

Oven Fried Tex Mex Chicken Nuggets

Best Dumplings in Delicious Bone Stock

Roasted Curry Dill Chicken Leg Quarters

Roasted Sweet Garlic Meatballs

Smashed Garlic Lemon Crispy Potatoes

Creamy Lemon Garlic Sauce for Fish

Creamy Dill Pickle Garlic Dip

Slow Cooker Garbanzo Bean Dip

Chunky Jalapeno Cheese Ball