Brussels Sprouts Roasted with Balsamic 
These delicious brussels sprouts are one of our favorite roasted vegetables year round that we created in our kitchen! This recipe took a mind of it's own one day when Balsamic salad dressing was on the same plate as cooked frozen brussels sprouts and it blended together! Wow, I couldn't believe the flavor combination. We use to boil them with butter, still good but we are addicted to our simple marinated roasted fresh brussels sprouts that are not mushy! We have used frozen brussels sprouts but prefer fresh because they are hardier and hold texture. YUMMY! This recipe can easily be halfed for smaller portions!

Oven Temperature: 350 Degrees Fahrenheit
Cooking Time: 25-30 Minutes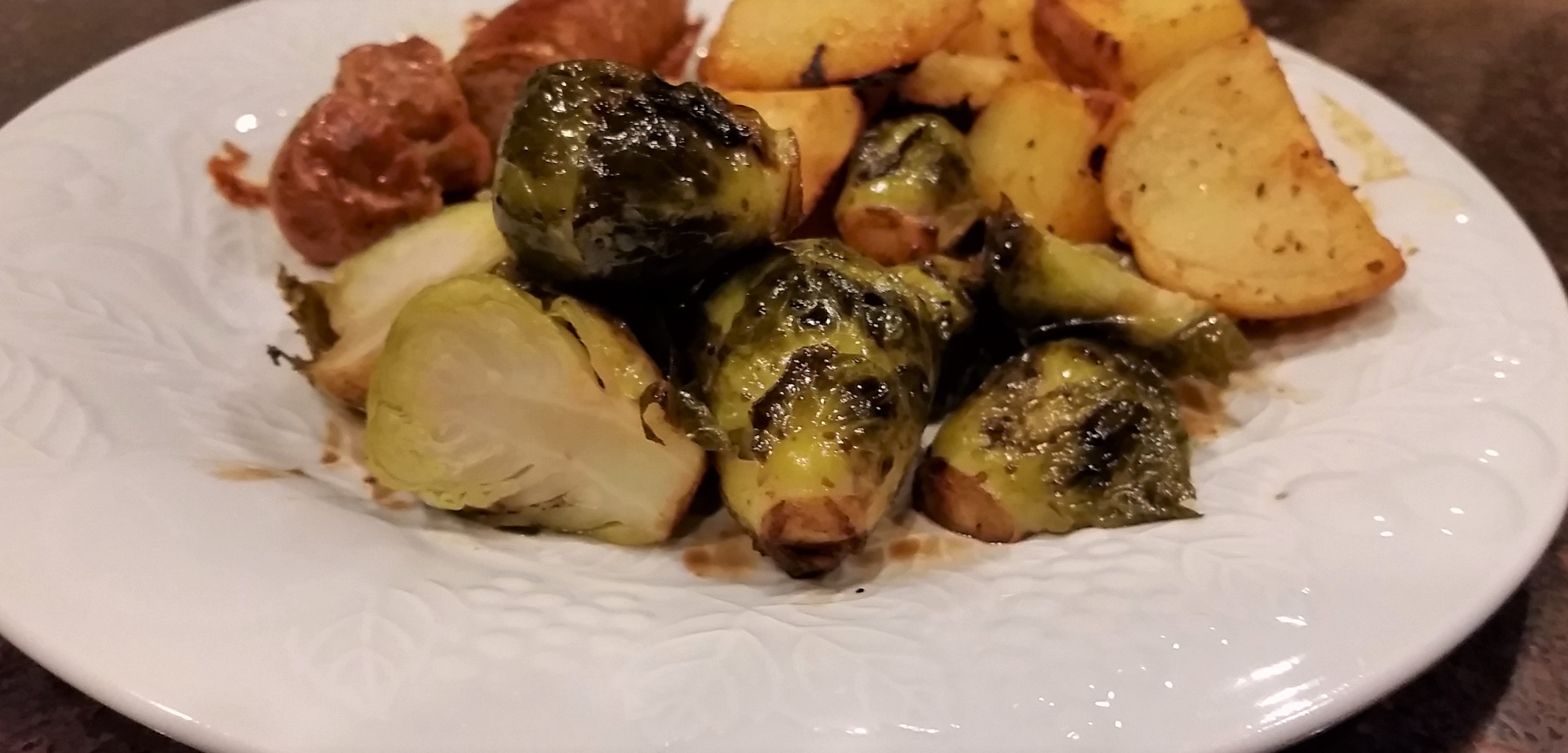 Brussels Sprouts Sweetly Roasted Ingredients:
4 Cups Fresh Brussels Sprouts (we have used frozen brussels sprouts but trust me, try fresh brussels sprouts, they have a different taste that we prefer!)
2-3 Tablespoons Olive Oil
2 Tablespoons Balsamic Vinegar
1 Teaspoon Black Pepper
1/2 Teaspoon Salt
Brussels Sprouts Sweetly Roasted Instructions:
1. Put the Brussels Sprouts in a pan that can go in the oven (we use our oven friendly Calphalon pans, but you can also use a cookie sheet, just don't use glass pans, it will make the vegetables a little mushy!)

2. Sprinkle all the above ingredients over the Brussels Sprouts in the pan and gently mixed them up evenly, then set aside with a lid to marinate for 15-30 Minutes. They will look like this!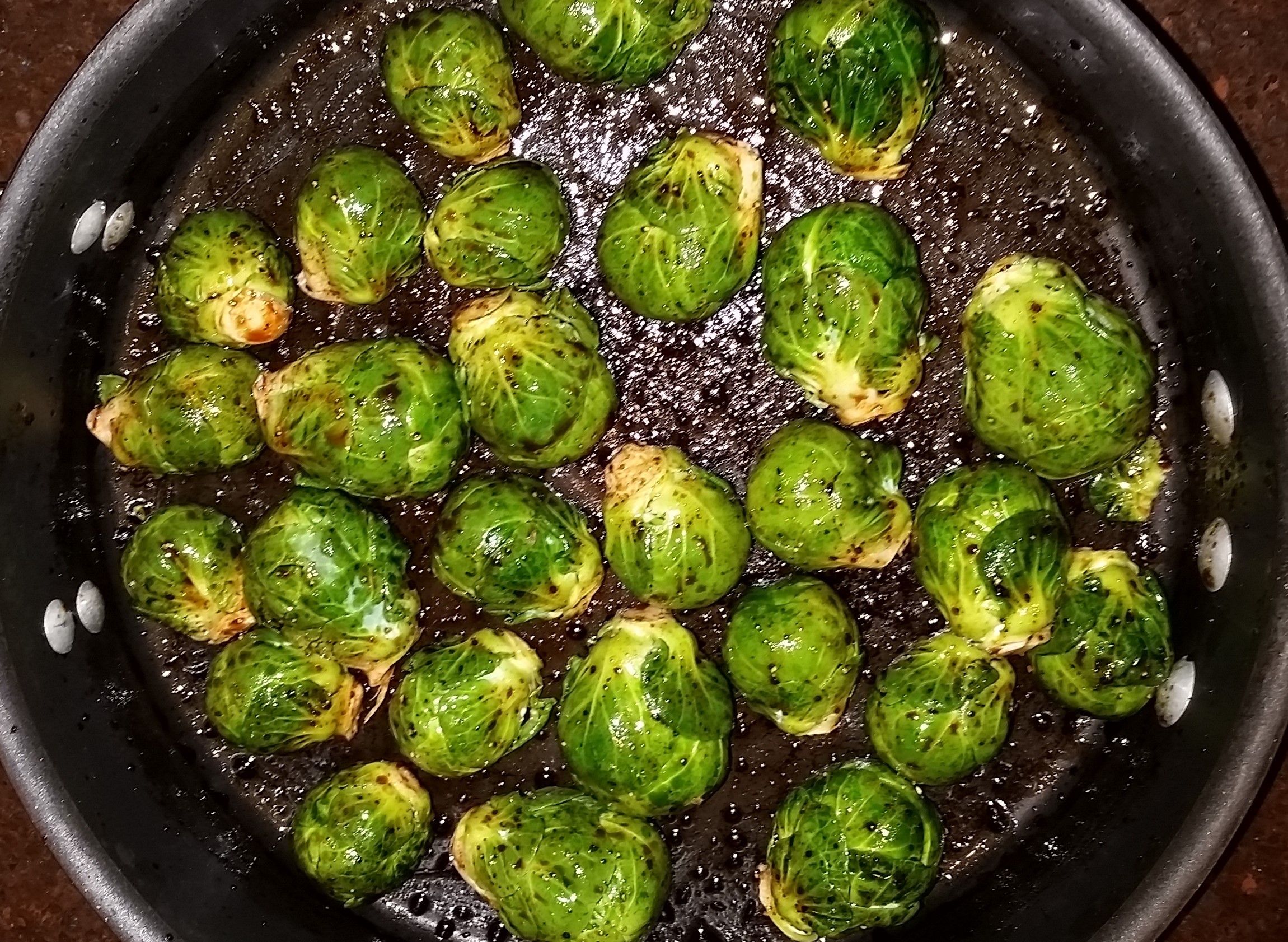 3. Go ahead and turn your oven on 350 Degrees Fahrenheit. When the oven is heated up, take the lid off the pan and put the Brussels Sprouts in the oven for 20 Minutes. You might need to cook them a little longer but check them with a fork first after the 20 Min. (We like our Brussels Sprouts to still have firmness to them but not crunchy or mushy!) When they are done, they should look like this!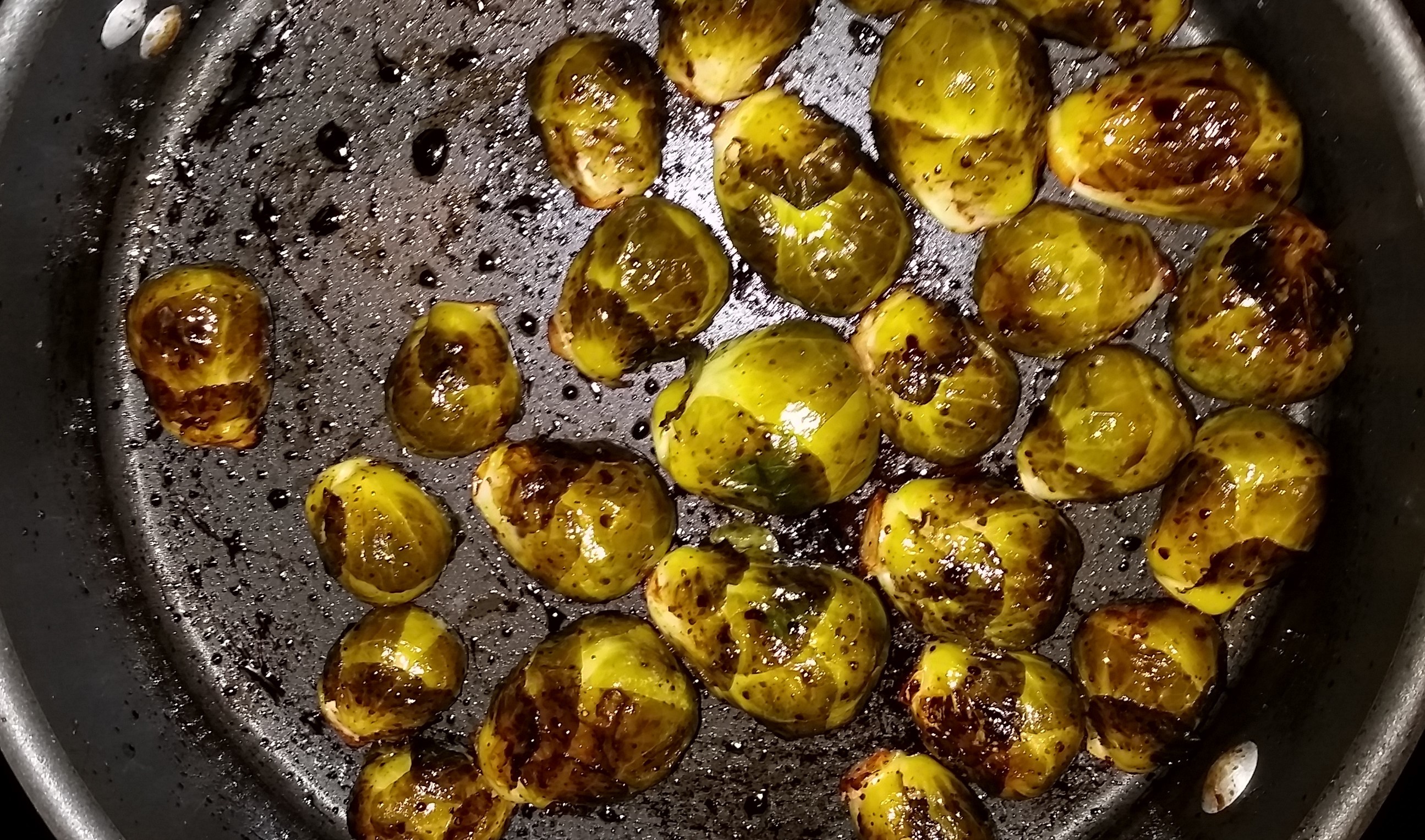 We hope you enjoy this simple and delicious roasted vegetables! By using fresh ingredients with a touch of sweetness turns these Brussels Sprouts to a family favorite!
Try these yummy vegetables sides with our Grilled Chicken with Balsamic recipe or even our delicious Rice and Cheesy Chicken Casserole as an easy side!
Dining in with Danielle for more recipes! 
Photos and Videos By My Love Chris Redding
Jalapeno Pickle Cheese Ball

Slow Cooker Sausage Black Eyed Peas

Roasted Cheesy Ranch Potatoes

Slow Cooker Sausage Black Eyed Peas

Oven Baked Garlic Balsamic Turkey Burgers

Slow Cooker Tex Mex Black Eyed Peas

Roasted Curry Brussels Sprouts

Pimento Olive Cheese Ball

Olive Dill Pickle Cheese Ball

Pickle Cheddar Cheese Ball