Cream Cheese Frosting So Creamy made with Real Cane Sugar and Real Butter!
Our Butter Cream Cheese Frosting was an experiment that took a few tries before getting the creamy consistency with real Cane Sugar! Sugar is grainy and can be hard to make smooth that is why most cream cheese frostings are made with powdered sugar. We also love butter cream frosting, so we created a Butter Cream Cheese Frosting with real butter and Cane sugar! 

Below is our Pumpkin Cake with our Butter Cream Cheese Frosting! We wanted to make the frosting a different recipe because this frosting will be delicious on most cakes or cupcakes. We have even tried it on Banana bread, so delicious!
Prep Time: 10-15 Minutes
Butter and Cream Cheese Room Temp: 30 Minutes or longer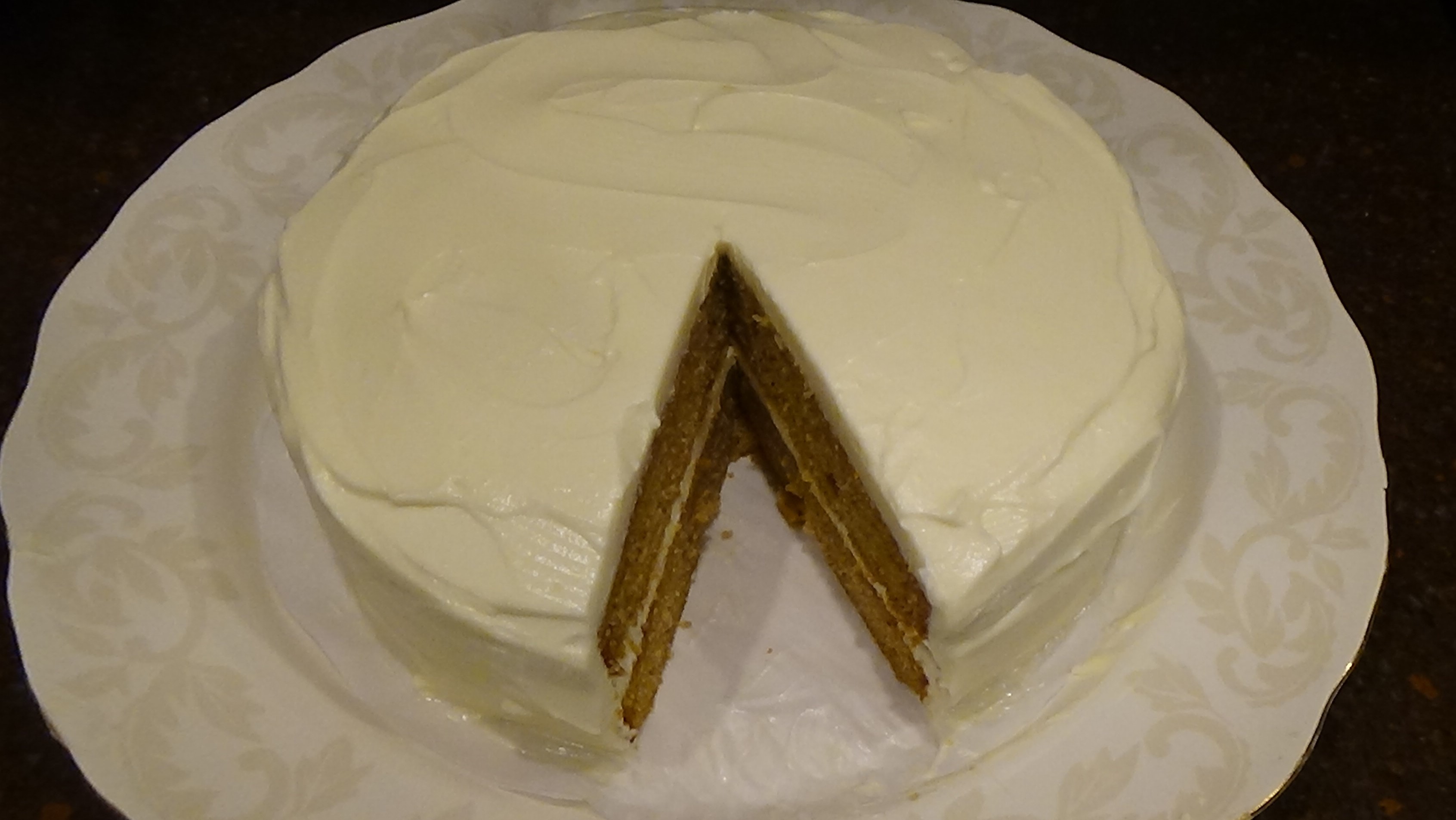 Butter Cream Cheese Frosting Ingredients:
3 8 Ounce Cream Cheese
1/2 Cup Butter (Not Margarine)
1 Cup Cane Sugar (we like to use Organic Florida Crystals Sugar cane but there are others that are good)

Instructions:
1. This recipe works best if you have a mixer or hand mixer due to the amount of whipping the butter and sugar need. We are going to use our  KitchenAid mixer for this process. Put butter and sugar in a mixing bowl and start mixing. This process will take over 10 minutes and a lot of scraping the sides of the bowl! (we want to make sure all the sugar is off the sides and whipped evenly to make a smooth frosting.)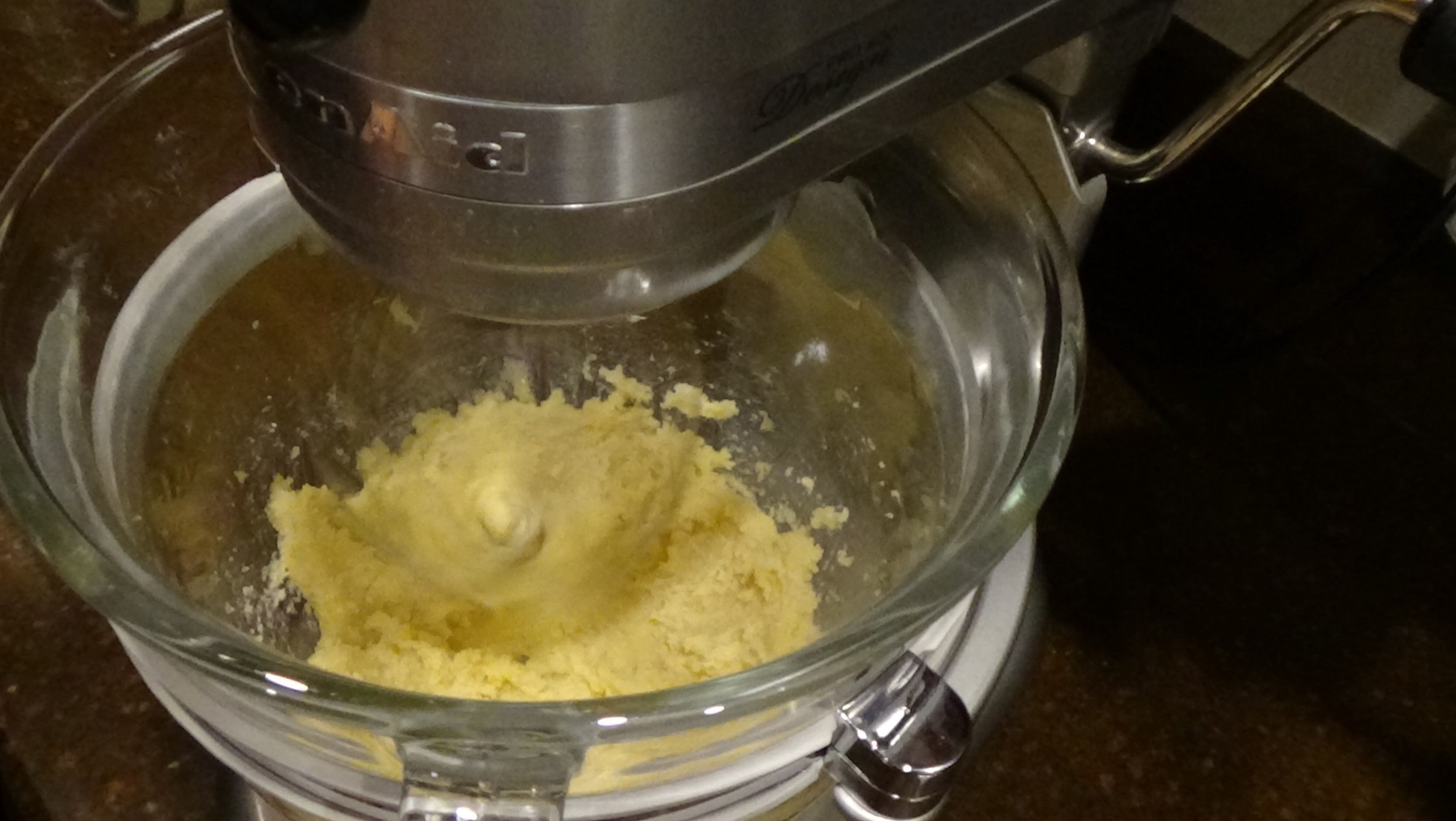 2. Now put the 3-8 oz packages of cream cheese in the bowl and start mixing at a low speed. It usually takes another 3 to 5 minutes of mixing and scraping the sides to make sure all the ingredients are mixed and creamy. Here is what the frosting should look like, you will see the creamy consistency as well as a stiff frosting but not hard and very spreadable! 

Even though at this point, you can use the frosting for whatever baked goody you desire but we will show you how we frost our Pumpkin cake!
We have let the cake cool completely so the frosting does not melt while frosting! We like a thick layer of frosting in between the cakes.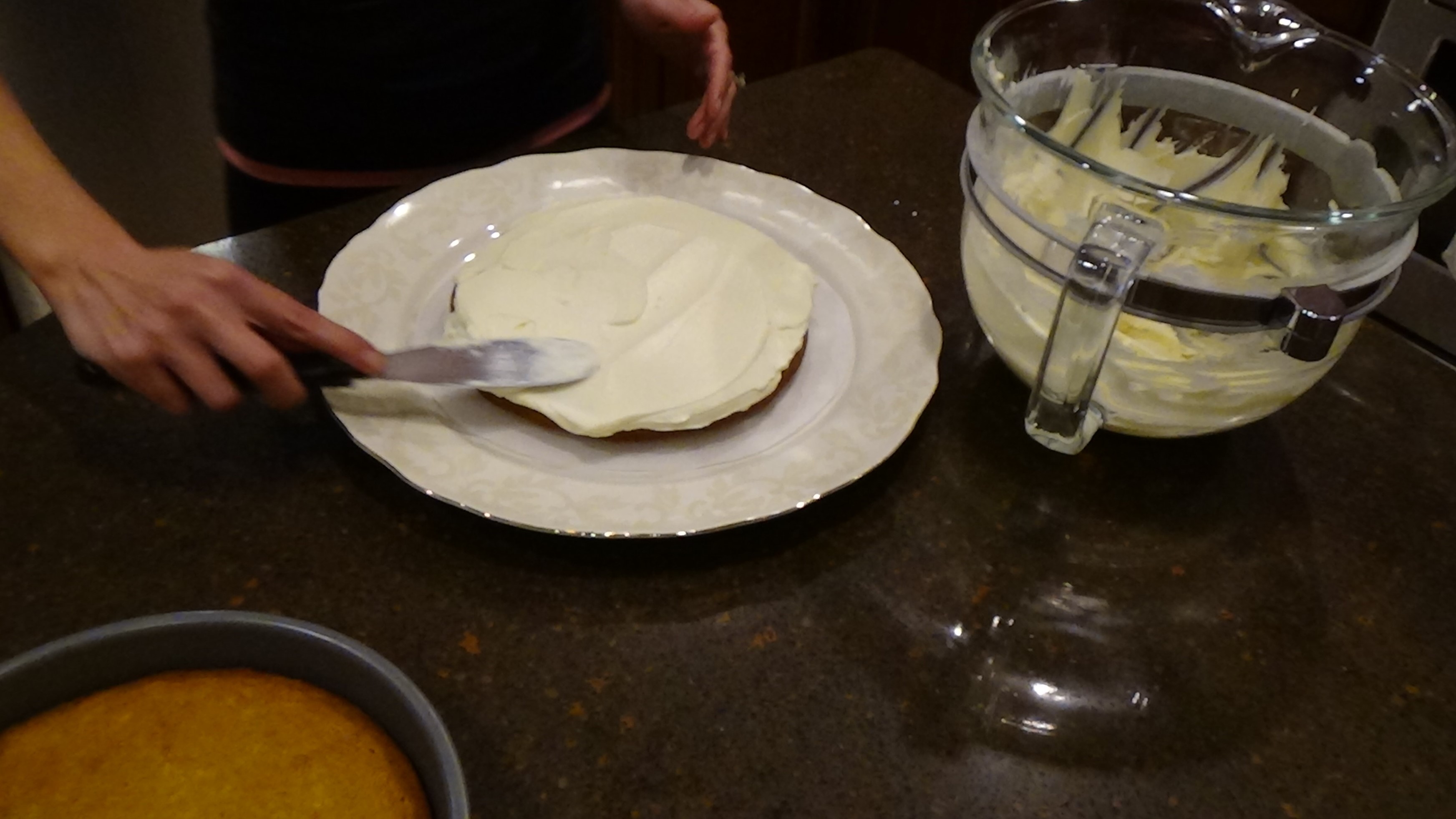 Than you carefully take the other cake out of the pan by flipping it over and placing it on top of the cake that is already frosted! Works best and makes the cake even if the bottom of cake is face up like the picture.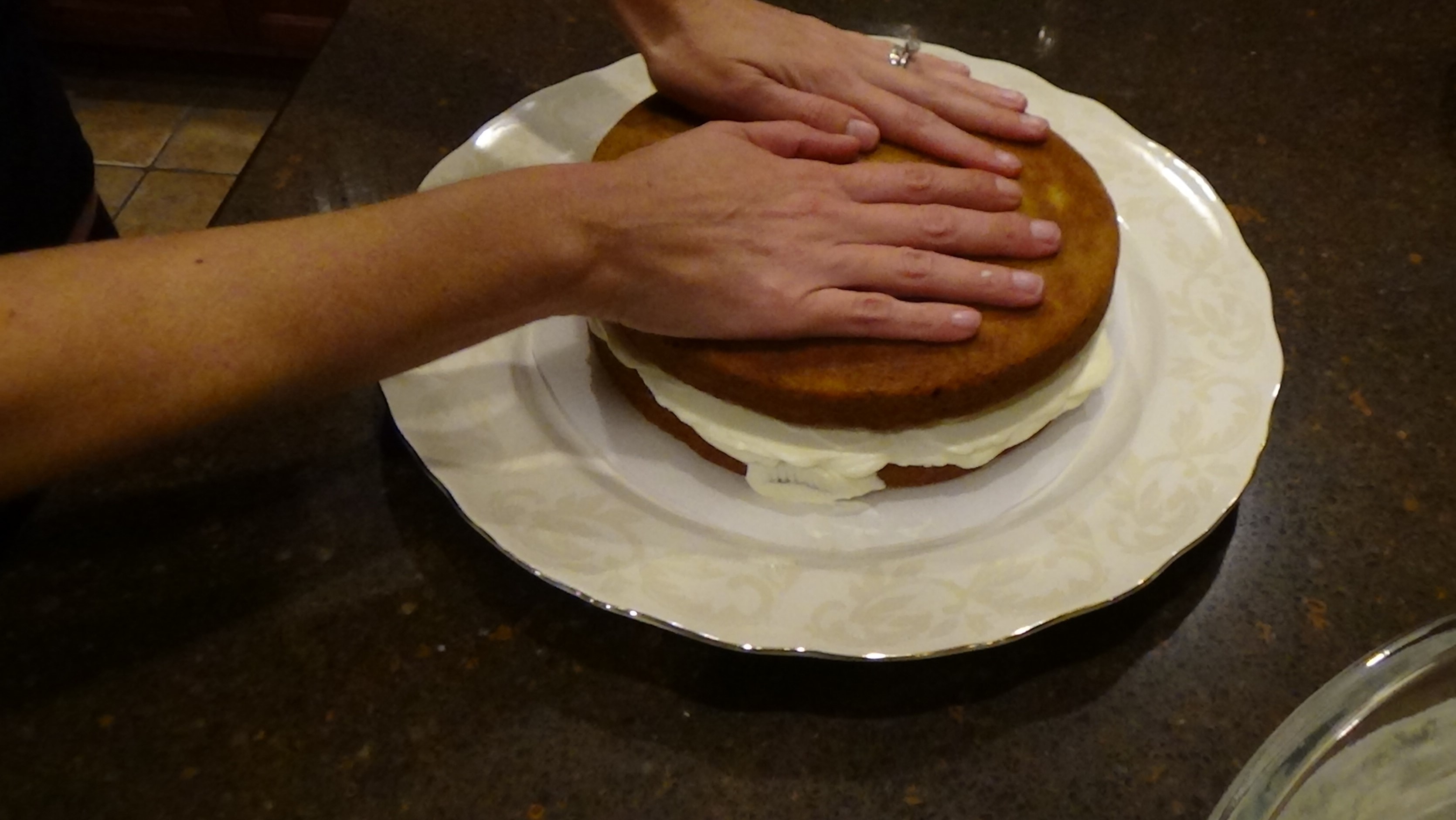 This frosting is very easy to work with and spreads over the cake without tearing the cake to pieces (yes I have made many mistakes with frosting but this one is so creamy and spreads easily!)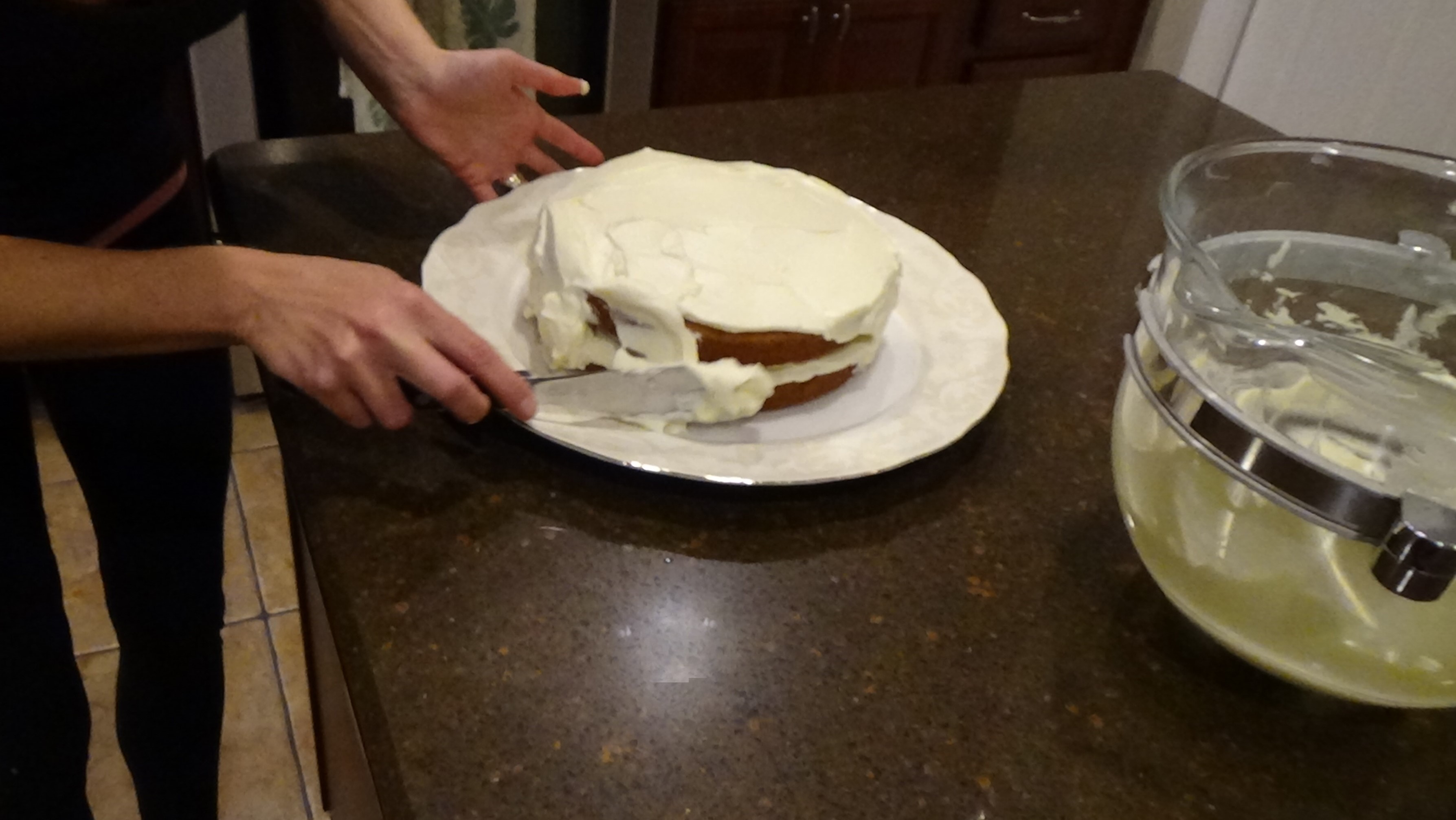 We are not too concerned with the look of the cake, it doesn't have to be perfect but try to even out the frosting as much as possible. Your finished Pumpkin Cake layered with Butter Cream Cheese frosting!
After frosting, we let the cake sit covered for at least 30 minutes before eating the cake (this helps the cake and frosting set and the frosting marries to the cake and soaks in a bit, moist cake with delicious cream cheese frosting is a real treat in our home, so dig in!)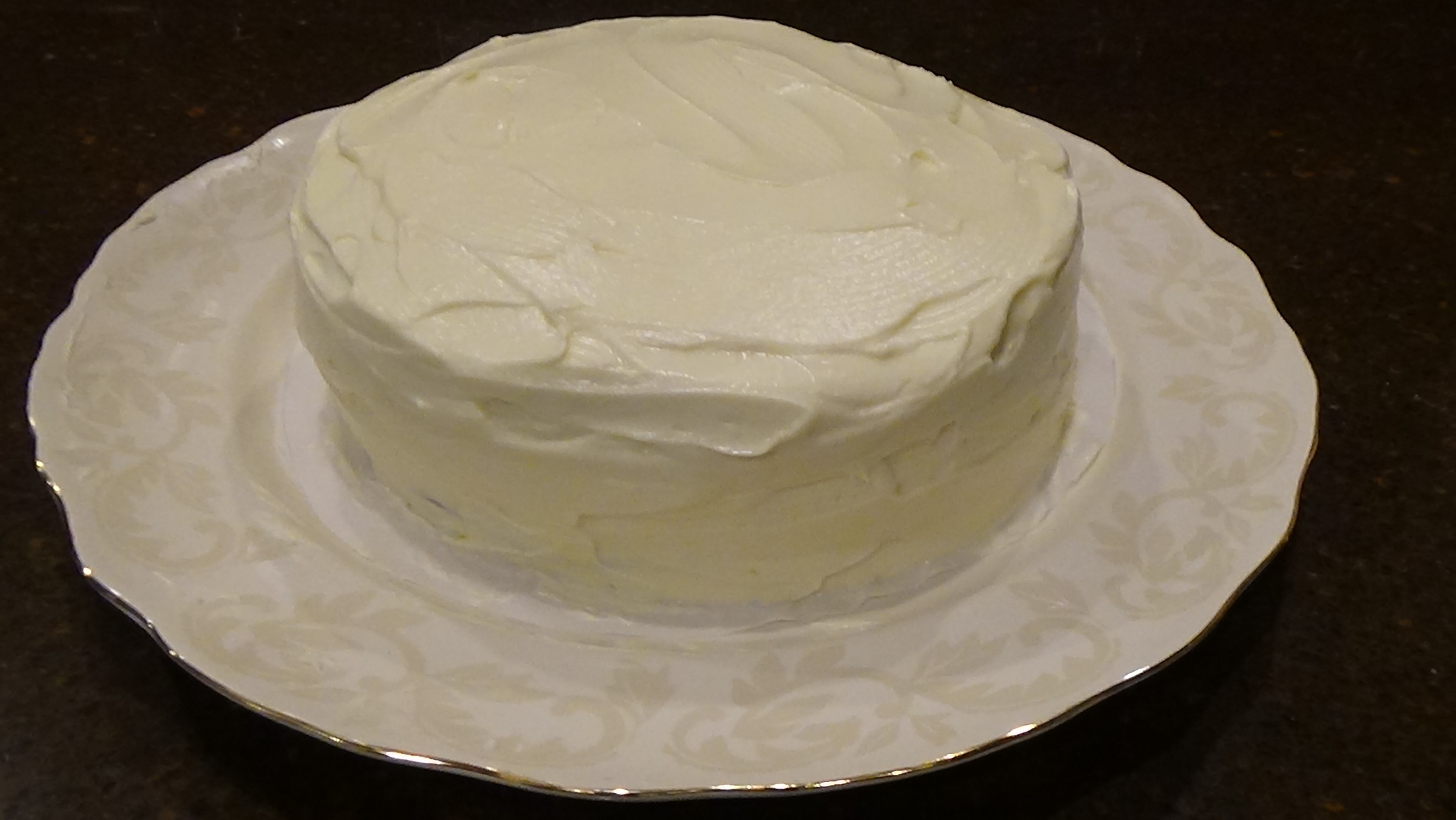 Our Butter Cream Cheese frosting is so creamy and delicious, we use it on all our baked goods we want to frost! Try it on our Pumpkin Cake or our Pumpkin Cake Bread or your own cake creation. If you want to make your own Simple Pumpkin Puree for Pumpkin baked goods follow the link!
Dining in with Danielle for more recipes!
Photos and videos By my love Chris Redding
Roasted Cheesy Ranch Potatoes

Pickle Cheddar Cheese Ball

Roasted Broccoli Sausage Pasta

Roasted Soy Sauce Corn On The Cob

Twice Baked Kale Potatoes

Creamy Dijon Sauce For Everything

Slow Cooker Garbanzo Bean Dip

Creamy Lemon Garlic Sauce for Fish

Creamy Dill Curry Garlic Dip