Pumpkin Puree Fresh and Simple
Pumpkin Puree is something we have been making for years but it only comes around for a few months during the year. We use it to make our delicious Pumpkin Bread, Cakes and Cupcakes all through the Fall and Winter months! Most pumpkins will not make the Pumpkin pie puree that you desire in a pie because it is a bit stringy. But the pumpkin puree that comes from these types of pumpkins are (in my family's opinion) the best for breads and cakes! We like to call the strings of pumpkin in the puree MOIST makers! There is something that happens in the baking process that makes the MOIST makers (little strings in the pumpkin puree) soak up in the bread or cake and adds so much flavor and softness! 

Oven Temperature: 375 Degrees Fahrenheit
Baking Time: 45-60 Minutes

Pumpkin Ingredients:
1 Large Pumpkin
Baking Sheet
Parchment Paper or Foil

Pumpkin Puree Instructions:
1. First thing to do is to cut the Pumpkin in half. ( Easiest way and less likely to cut yourself, simply cut the stem out like you would if your carving a pumpkin, than use a chef knife to cut all the way around the pumpkin starting from the hole at the top.) Like below!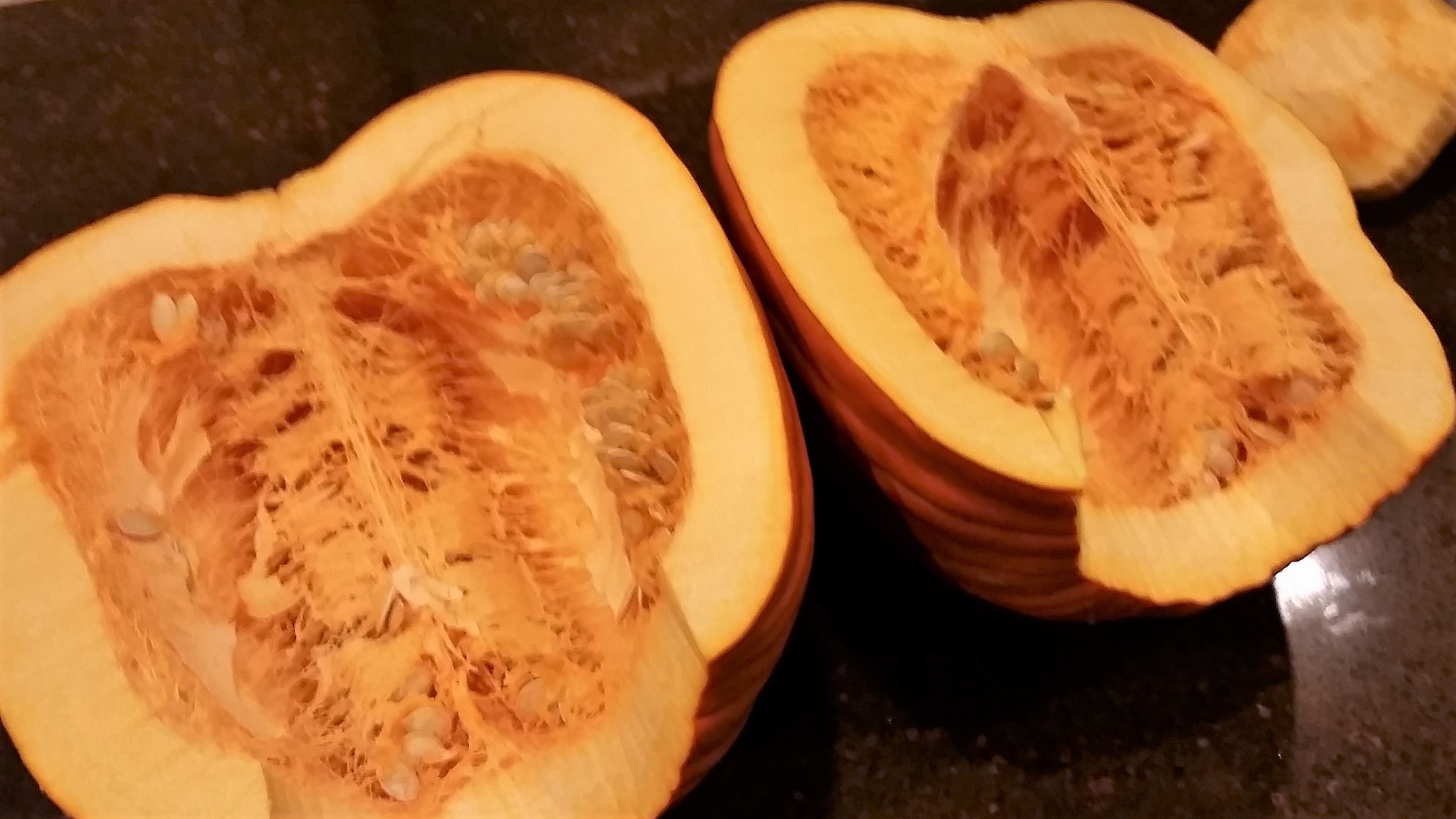 2. Next is to clean out all the seeds and scrape out the stringy stuff ( put seeds in bowl for making roasted pumpkin seeds!) Try and scrape out as much as you can, there will still be some strings but the best part is, they bake up and become mushy!
3. Now put parchment paper or foil on a baking sheet and put half the pumpkin upside down (meaning the skin of pumpkin needs to be up, this is protection for the pumpkin meat to bake and not burn!)
4. Bake at 375 Degrees Fahrenheit for 45 minutes or longer. To tell if it is done, take a fork and poke the skin through to the pumpkin meat. (If it is easy to stab through than usually it's done but if not, than put the pumpkin back in the oven for more time.) Let it cool for at least 10 minutes before you clean out all the baked pumpkin! When it's ready to become puree, the pumpkin will look like this below!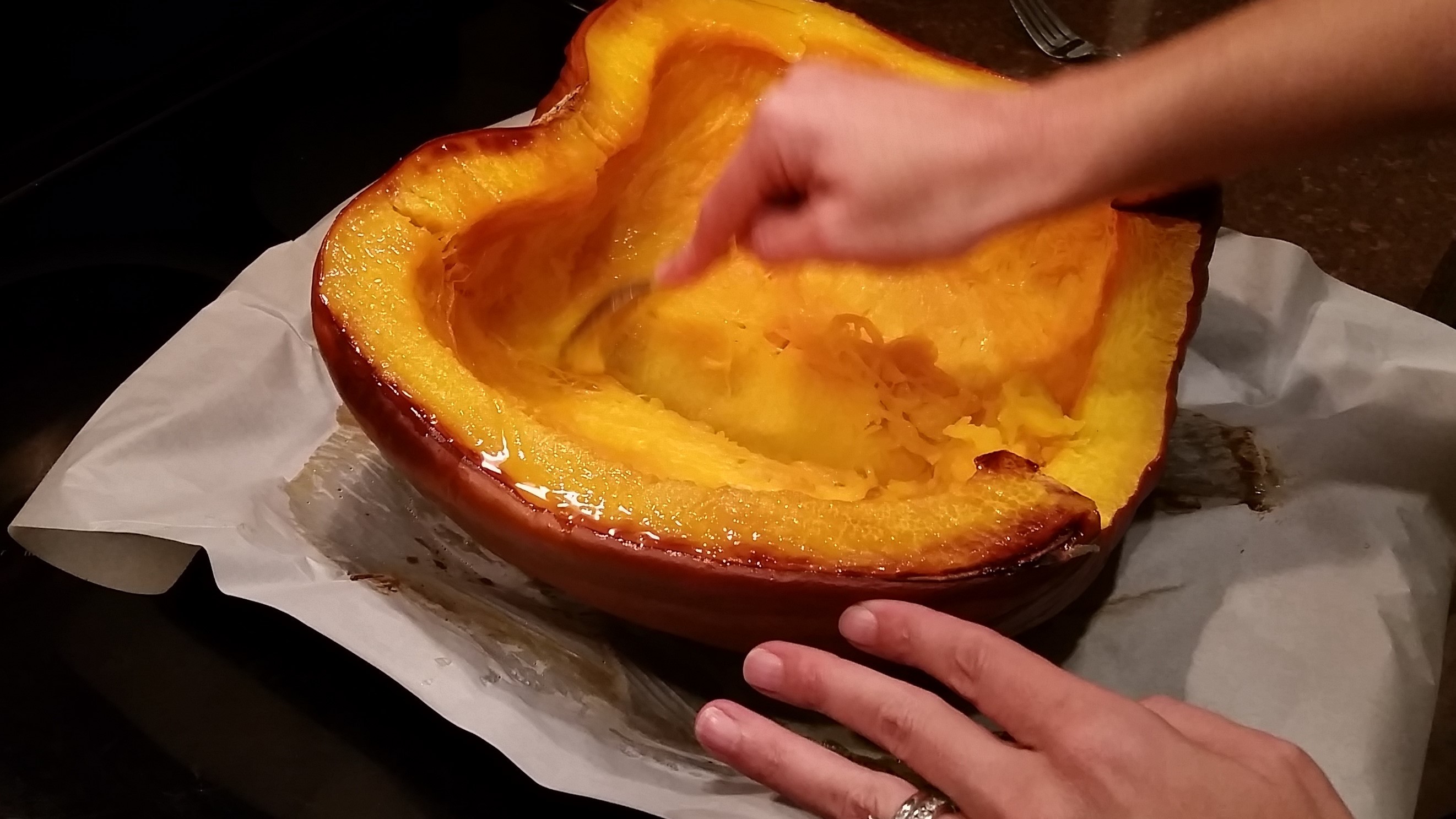 5. We just use a spoon to scrape the pumpkin meat out but because this is a stringy pumpkin, we scrape against the grain to prevent a lot of strings. This also helps puree it by hand! This size pumpkin usually makes 20 or more cups of puree. We separate 2 cups in to freezer bags and freeze them for when we want to make our delicious baked goodies! (If you want to put the puree in a food processor to make it smoother, you can but we don't think it is necessary.)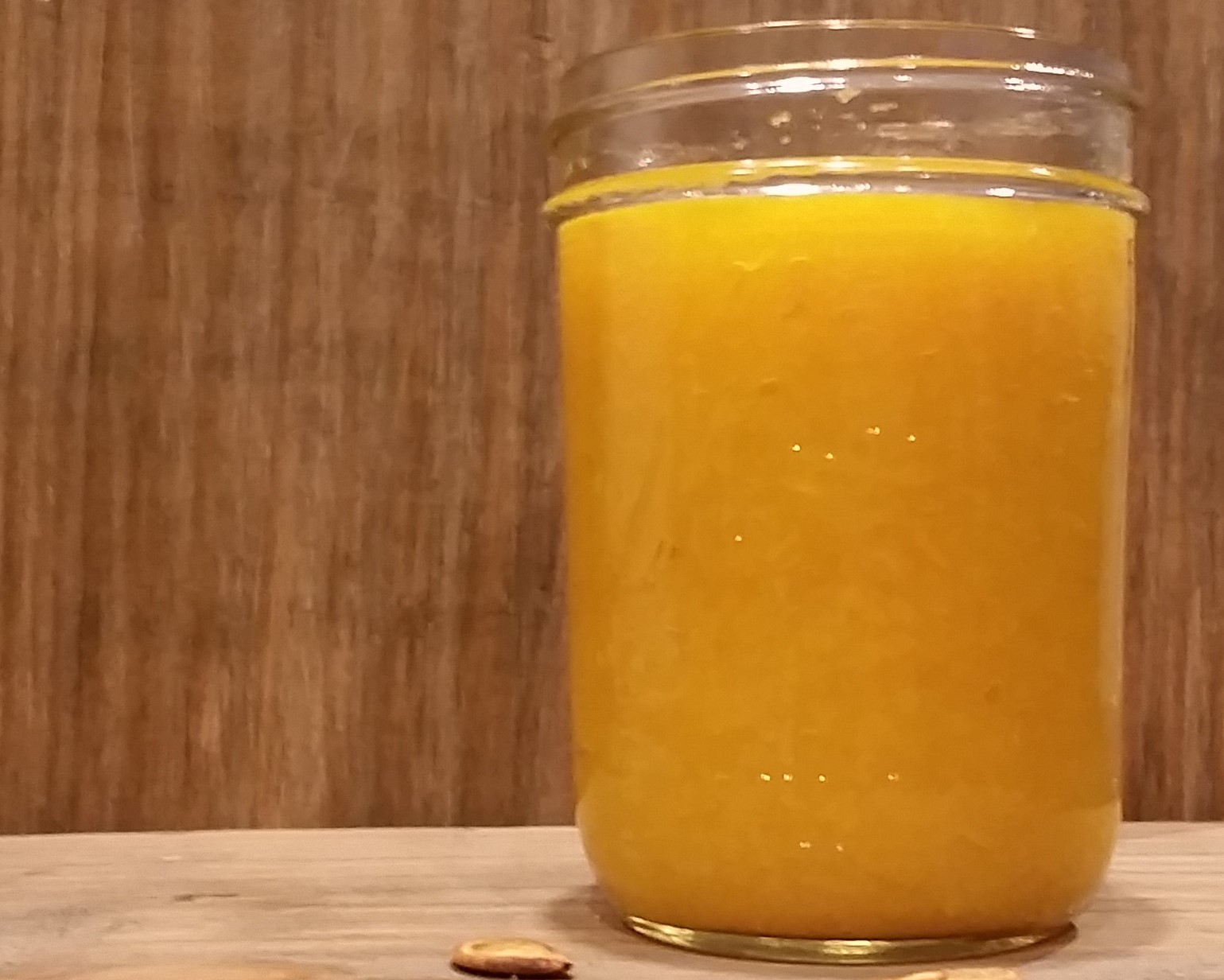 We hope you enjoy this simple way to make Pumpkin puree! Don't through out the stringy pumpkin, this puree makes delicious moist baked goods like bread, cake and cupcakes! Get cooking and start experimenting with your own homemade pumpkin puree! Try our Juicy Turkey or our Best Dumplings in Delicious Bone Stock for more fun and delicious meals!
Dining in with Danielle for more recipes!
Photos and videos By My Love Chris Redding
Roasted Cheesy Ranch Potatoes

Pickle Cheddar Cheese Ball

Roasted Broccoli Sausage Pasta

Roasted Soy Sauce Corn On The Cob

Twice Baked Kale Potatoes

Creamy Dijon Sauce For Everything

Slow Cooker Garbanzo Bean Dip

Creamy Lemon Garlic Sauce for Fish

Creamy Dill Curry Garlic Dip