Moist Pumpkin Cake smothered in Butter Cream Cheese Frosting with no Powdered Sugar!
We love Pumpkin around here and this Pumpkin cake with our Creamy butter cream cheese frosting is very moist and the frosting is really creamy! But of coarse, we use our own Pumpkin Puree and if you are not a frosting person than definitely try our Pumpkin Cake Bread which is what inspired our Pumpkin Cake with Cream Cheese Frosting. We try to use better ingredients and that is why our Butter Cream Cheese Frosting is made with Cane Sugar and NOT Powdered Sugar but we even reduced the sugar by half! The trick is trying to get the frosting creamy with big granules of sugar, well there is a way and we are going to show you! 

Prep Time: 1 Hour
Baking Time: 30 Minutes
Oven Temperature: 350 Degrees Fahrenheit 
Makes 2 Round Cake Pans or 13X9 Inch Sheet Pan

Pumpkin Cake Ingredients:
2 Cups White Flour (try not to use bleached or enriched white flour, we like King Arthur Flour )
1 Teaspoon Baking Soda
1/2 Teaspoon Baking Powder
1/2 Teaspoon Salt
1 1/4 Teaspoons Cinnamon
1/4 Teaspoon Cloves (Optional but it is delicious with this spice)
2 Cups Pumpkin Puree (if you don't have fresh puree, use a 15 oz can of Pumpkin Puree with nothing added)
1 Cup Pure Cane Sugar (we also have used coconut sugar, yum!)
1 Cup Butter Melted (we have only used real butter NOT margarine)
3 Eggs
Instructions:
We usually get the cake pans ready before we start mixing any ingredients because you don't want mixed ingredients sitting for too long, the baking powder will start rising. We also use Parchment paper buttered to the bottom because cakes will stick! (Tip: Butter the sides and bottom of pans than butter the cut out parchment paper to the bottom.) At this time PreHeat your oven at 350 Degrees F so the cakes have a hot oven to go in to.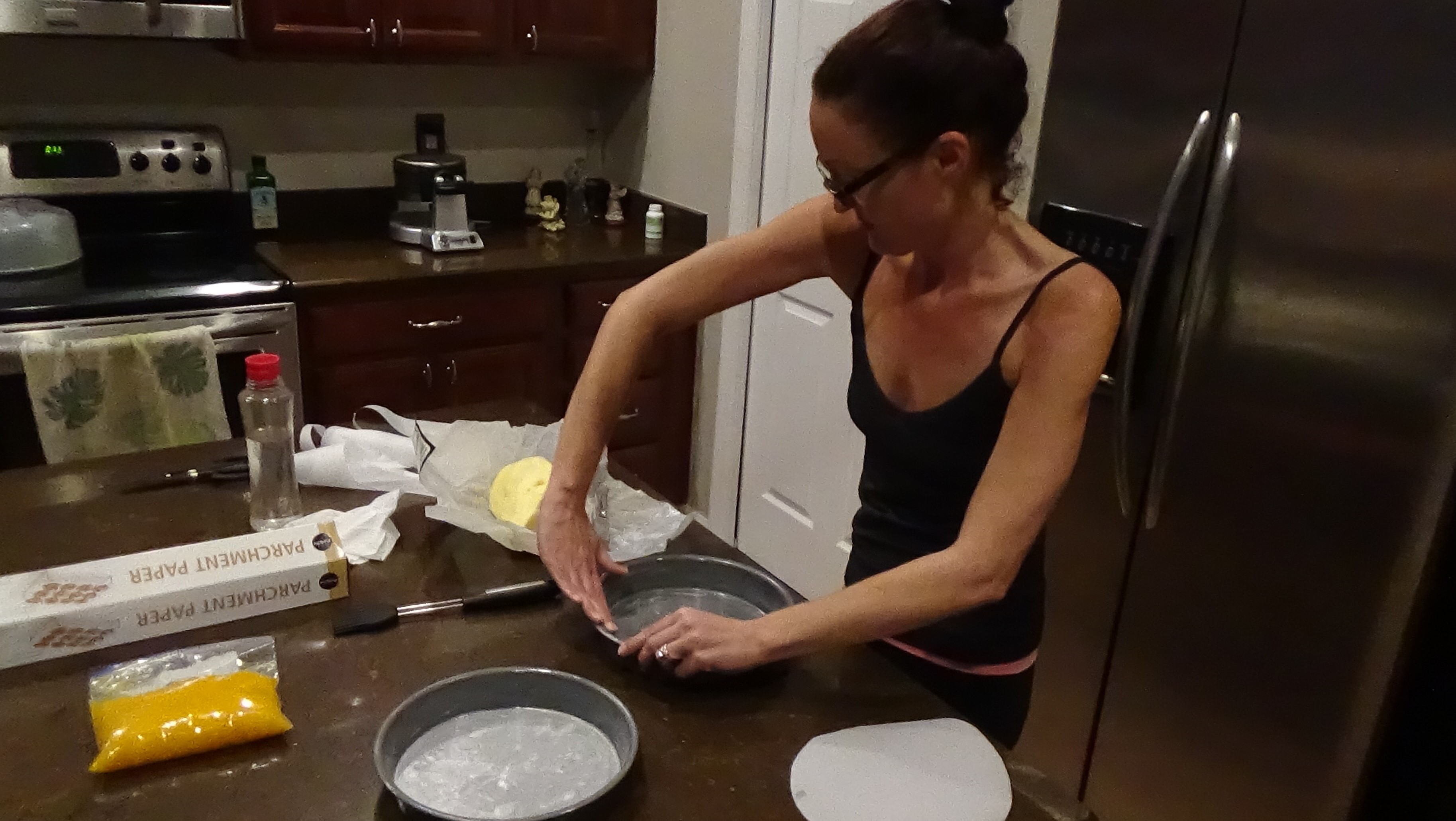 1. First thing to do is to get 2 bowls, one is for dry ingredients and the other is for wet ingredients. Add the Flour, Baking Soda, Baking Powder, Salt, Cinnamon and cloves in a bowl than make sure the ingredients are mixed well, set aside!

2. In the other bowl, you will add Pumpkin Puree, Melted butter, Sugar and Eggs. (Our Pumpkin Puree is homemade and froze for recipes like this!)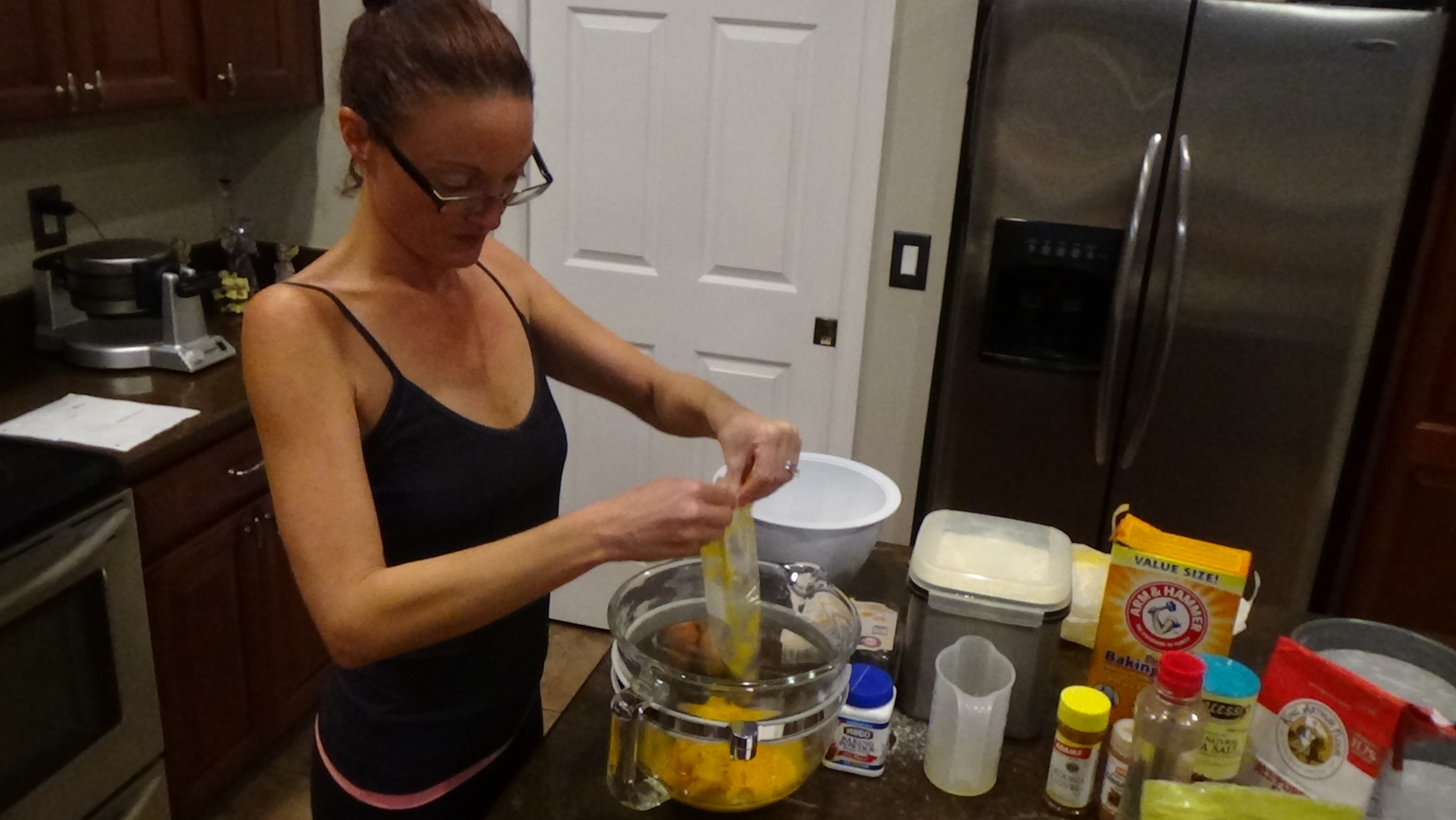 3. At this point, you can mix the wet ingredients together by hand or by a mixer (I do both ways but we will use our KitchenAid mixer for this, it is a great tool to have in the kitchen!) Mix until blended but be careful Not to over beat the eggs, we don't want a spongy or fluffy cake, our goal is MOIST cake!
4. There are some chunks and some strings because this is our fresh Pumpkin Puree but don't worry, it is delicious! We like to call them our Pumpkin cake moist makers! If you are using canned Pumpkin, than the wet ingredients will look a little different and smoother. Now add the mixed dry ingredients in the bowl and gently sir it in or mix on low speed on your mixer, just till blended.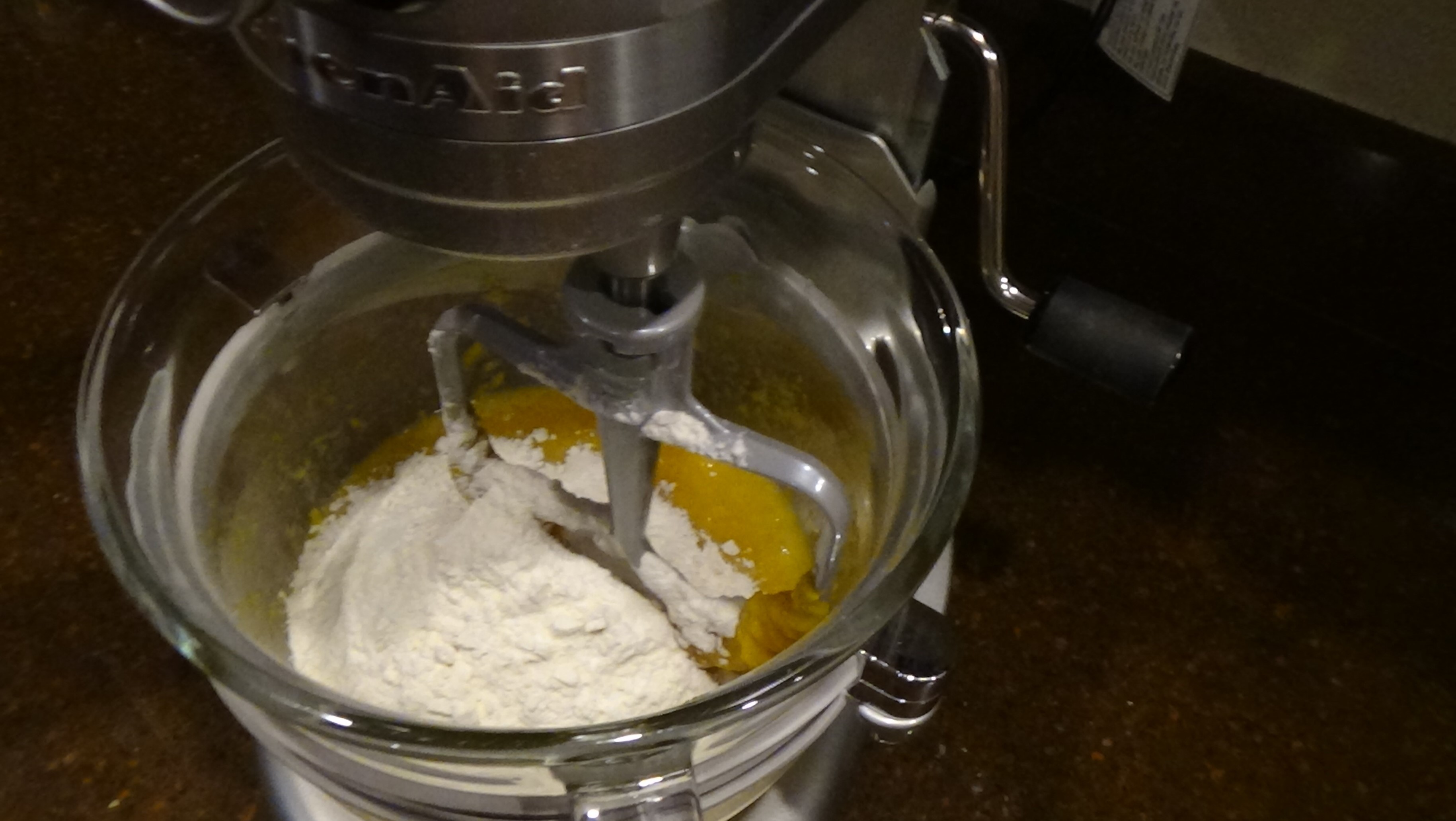 After the cake ingredients are mixed, the batter should look like this! The ingredients are well mixed but not over mixed (we don't want a flat cake)!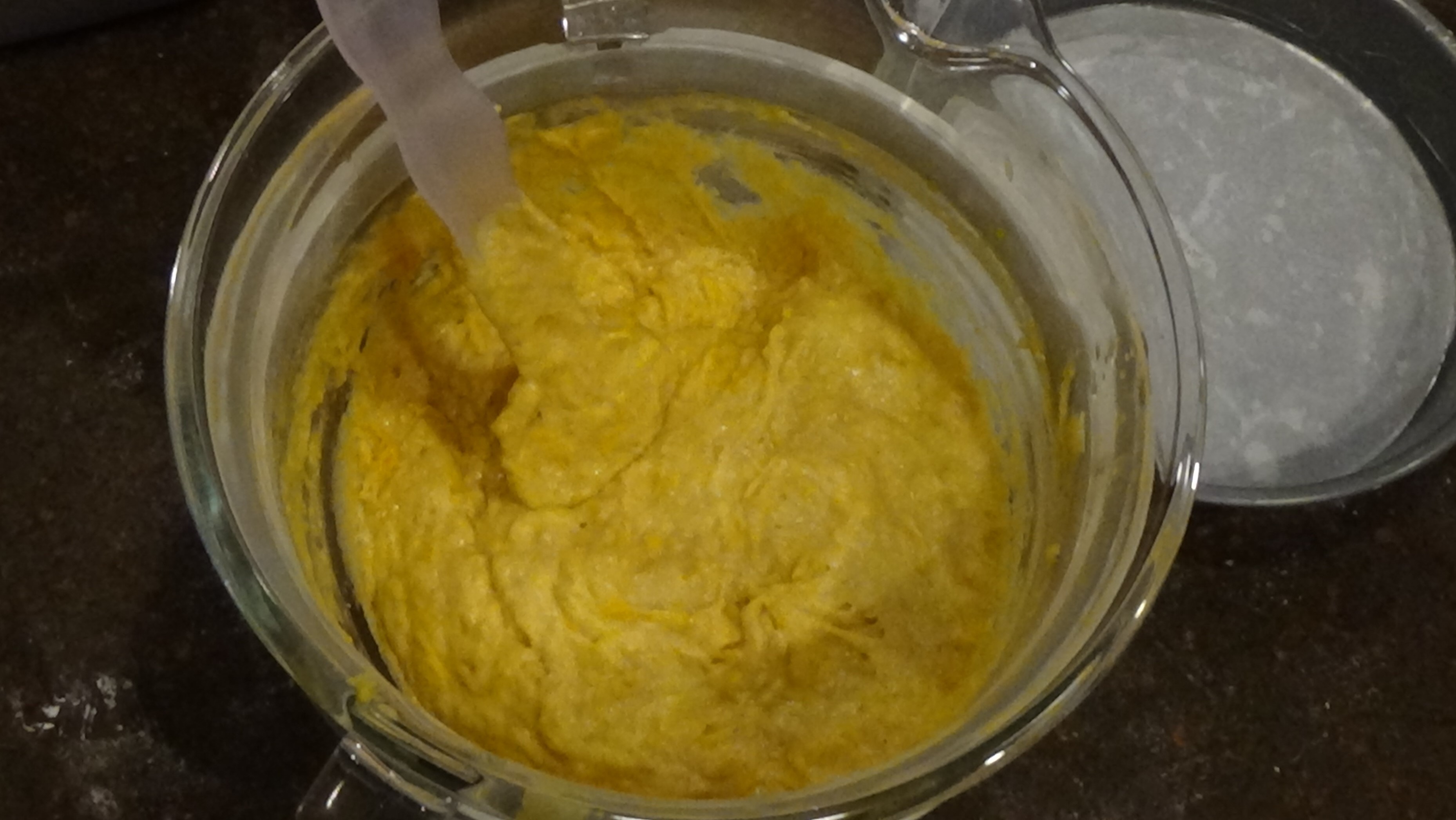 5. Now divide the Pumpkin batter evenly into the 2 cake pans or cake sheet pan ( he loves to help me, glass bowls are heavy!) It might look like not enough batter for 2 cakes but we are layering it up with frosting, it will be thick enough.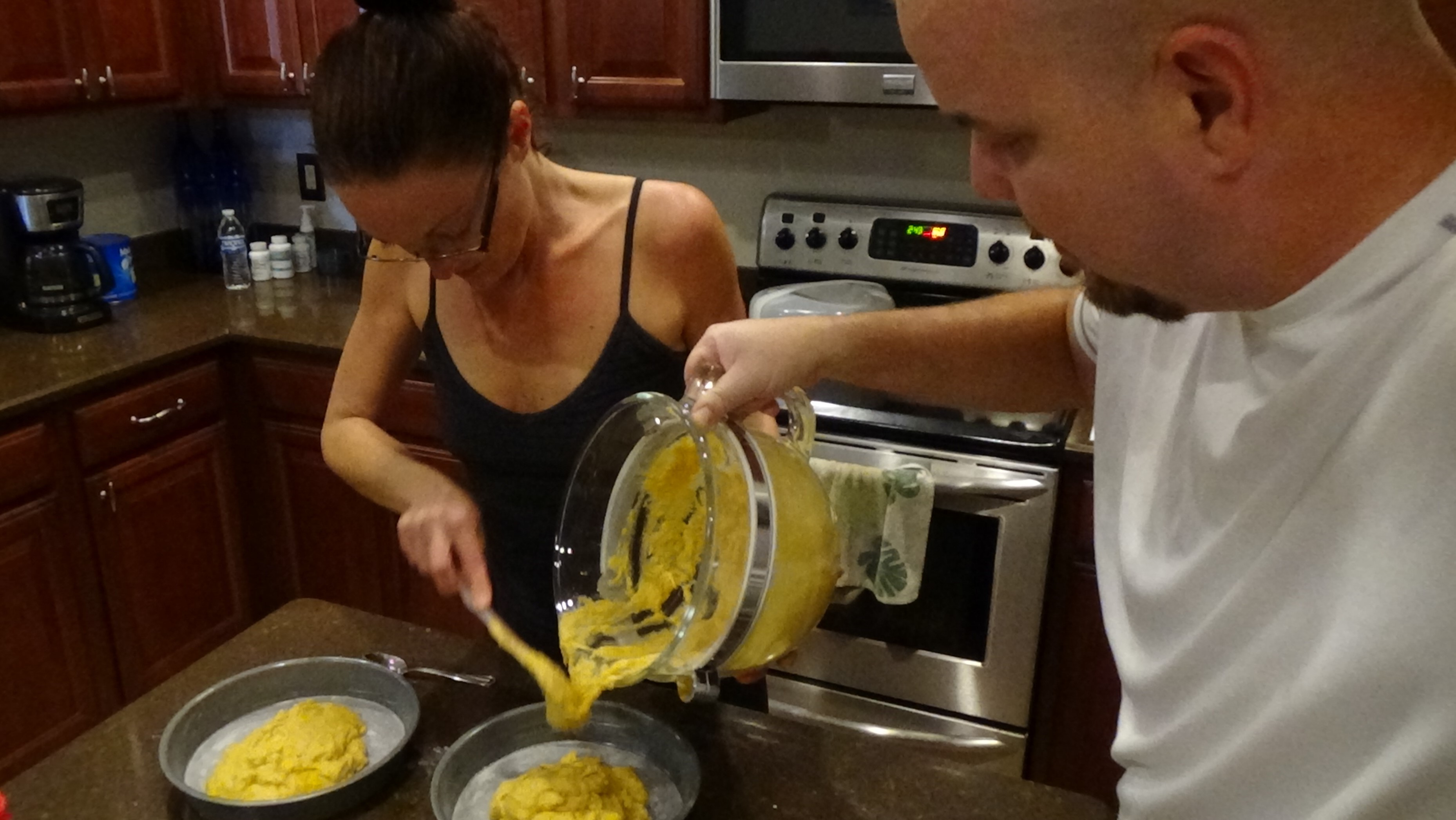 After all the batter is in the pans, make sure you carefully even out the batter, We don't want a lopsided layered Pumpkin Cake!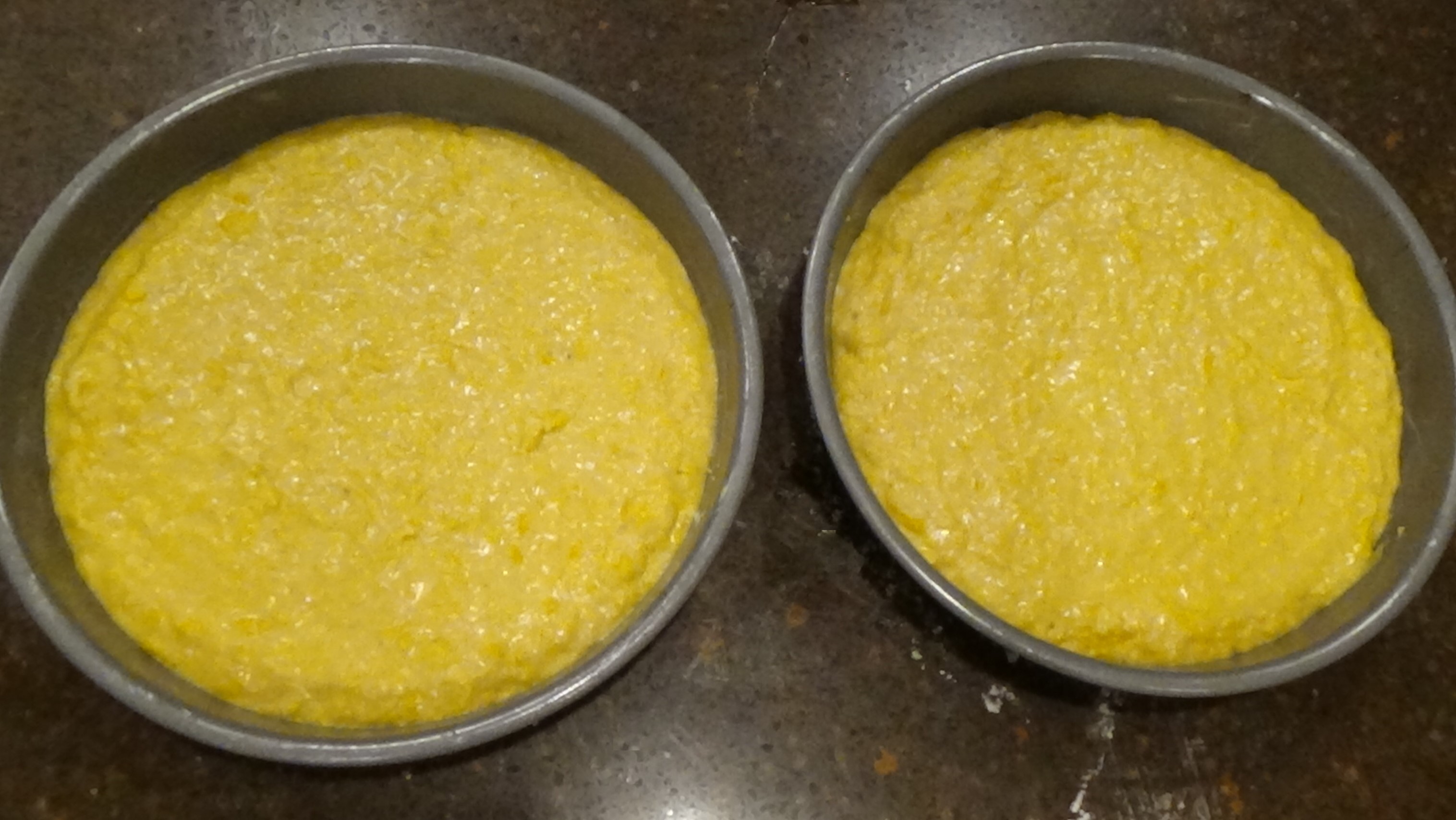 6. Bake for 30 Minutes than check the center with a toothpick to make sure it is not doughy. If it isn't done, leave them in the oven for about 5 minutes. Than take the cake out and let them cool completely because we are going to frost it and the cakes need to be cool!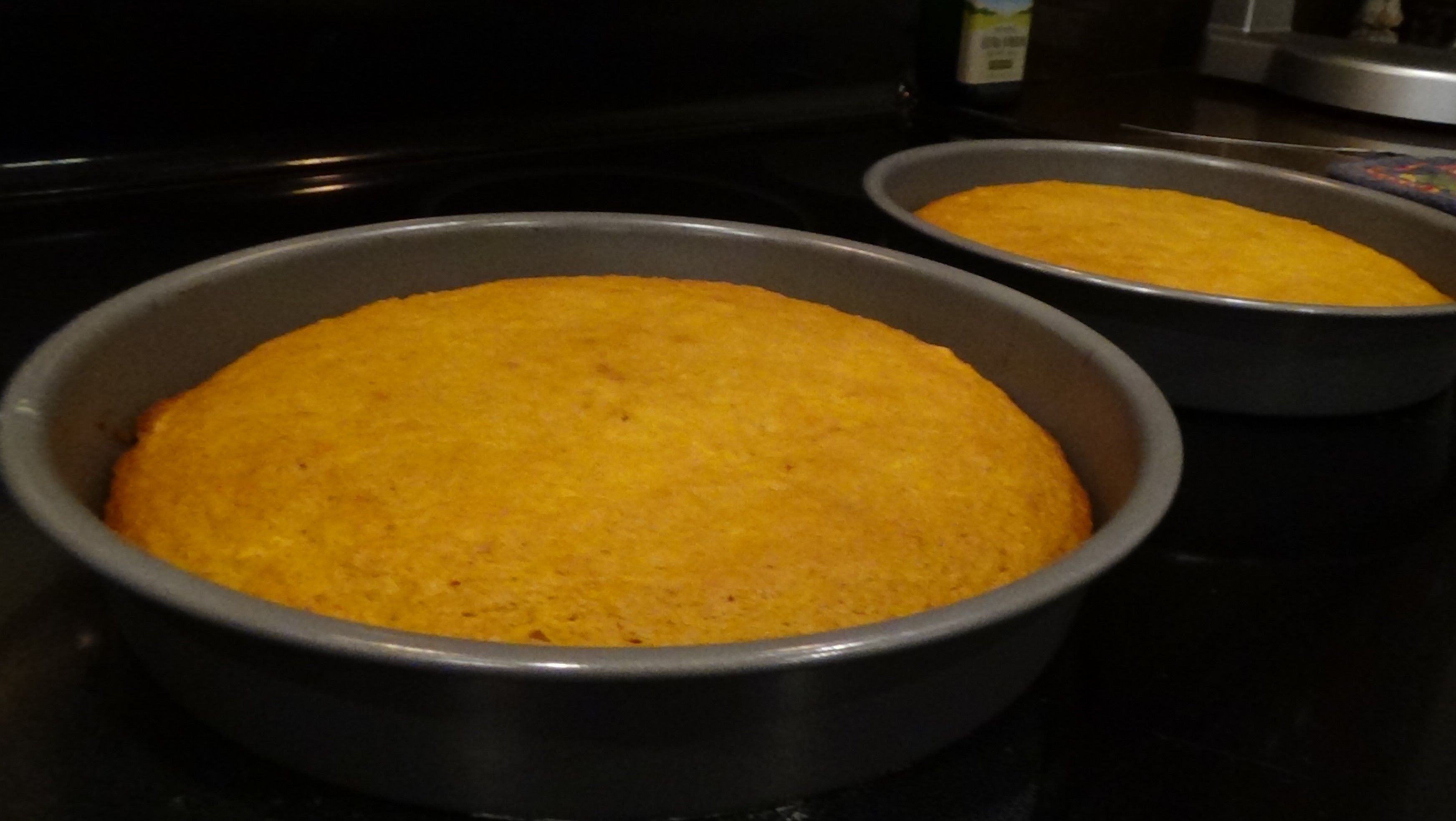 To make the Pumpkin Cake with our Creamy Butter Cream Cheese Frosting follow the link to your own slice of heaven!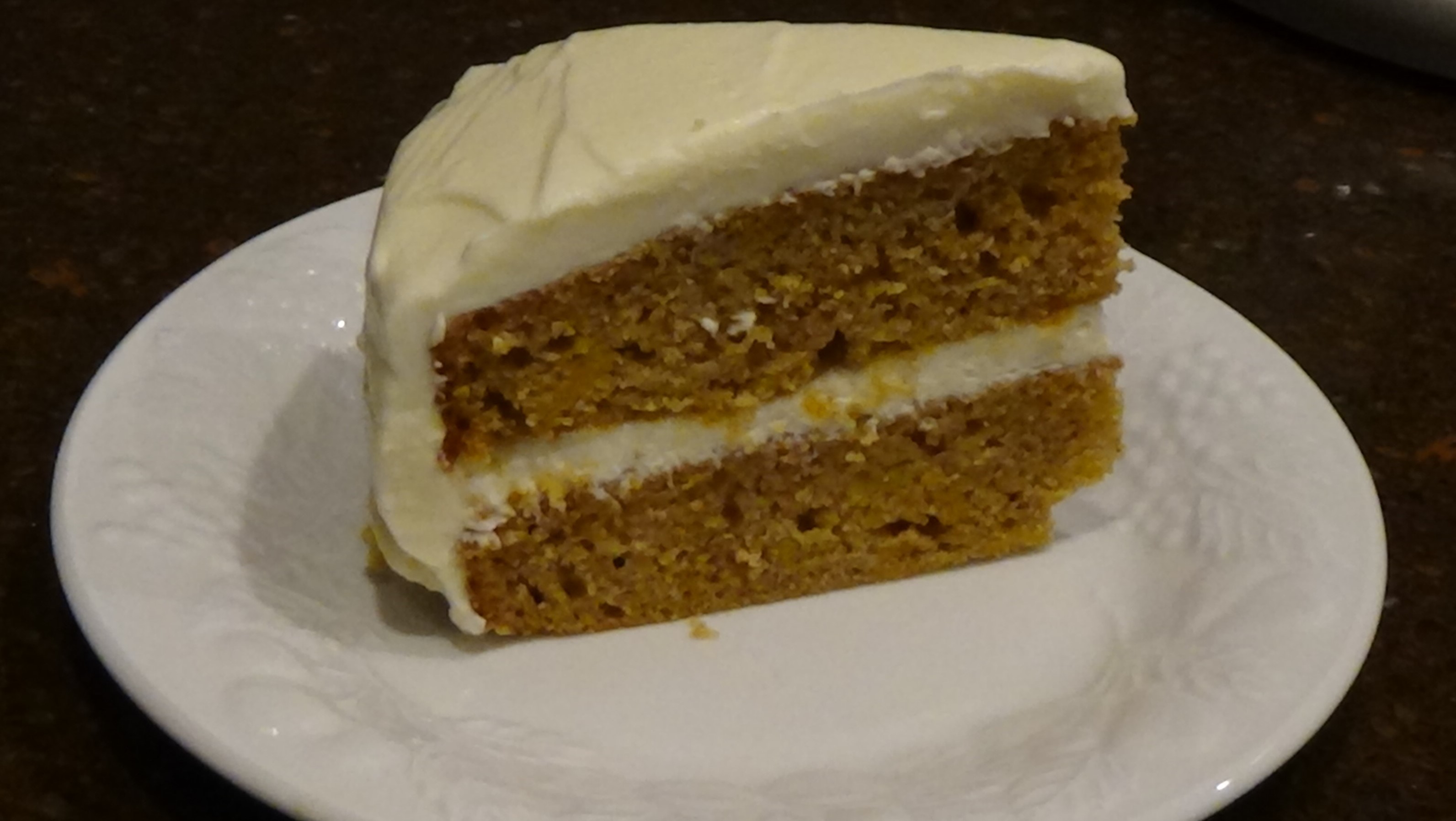 We hope you enjoy our Pumpkin Cake with Butter Cream Cheese Frosting as much as we do! It is a dessert favorite especially when we have our own stock of Simple Pumpkin Puree and also check out our Pumpkin Cake Bread which is moist and delicious! We also have a delicious Juicy Turkey recipe, who says you can't have turkey year round!
Dining in with Danielle for more recipes!
Photos and videos By my love Chris Redding
Jalapeno Pickle Cheese Ball

Slow Cooker Sausage Black Eyed Peas

Roasted Cheesy Ranch Potatoes

Tex Mex Ground Turkey Rice Casserole

Roasted Balsamic Chicken Leg Quarters

Bacon Wrapped Tex Mex Jalapenos

Mashed Cream Cheese Red Potatoes

Pickle Cheddar Cheese Ball

Delicious Sour Cream Garlic Sauce